Hagoshrim - Green Hotel
Kibutz Hagoshrim, HaGoshrim, 12225, HaGoshrim
Hagoshrim Hotel in nature - built on the ruins of the winter palace of Amir Peor, who ruled the northern Hula Valley (during the Ottoman rule), overlooking the Golan Mountains and the snowy Mount Hermon Hagoshrim hotel in nature. , Pastoral scenery and fresh air ensure an ideal setting for recreation that seeks peace and relaxation, and enjoyment from a variety of activities. All rooms have bath, TV, air conditioner, telephone, coffee kit and minibar. . In the lobby there is a wireless internet access service with no wireless charge for your convenience. The hotel has a swimming pool and gymnasium, swimming pools (open and indoor), sauna, fitness room, sports hall, squash and treatment rooms. The hotel features events and convention halls, seminars and private events. The Gush restaurant is a meat restaurant located on the banks of the Korn stream. Open all week. Entertainment - entertainment programs and seasonal content activities. Kayak - Canoeing and river boats on a family track and on a challenging route. 20% discount for hotel guests. The Hagoshrim Hotel serves as an excellent exit base for all the charming corners of the Galilee, especially in the country of Palgi Water. pay attention!! On Saturday night, late entry by room availability!
rooms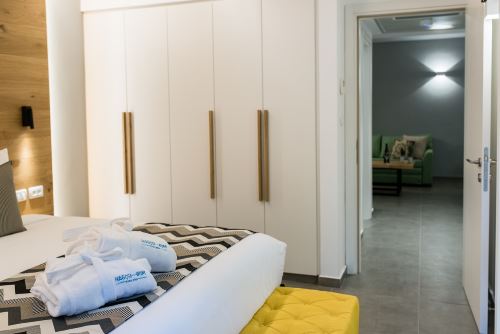 Hagoshrim premium suite
Hagoshrim Premium - Suites
Eight luxuriously comfortable Premium suites situated in a 2-level structure, including 2 showers per suite. Each suite is suitable for up to 4 guests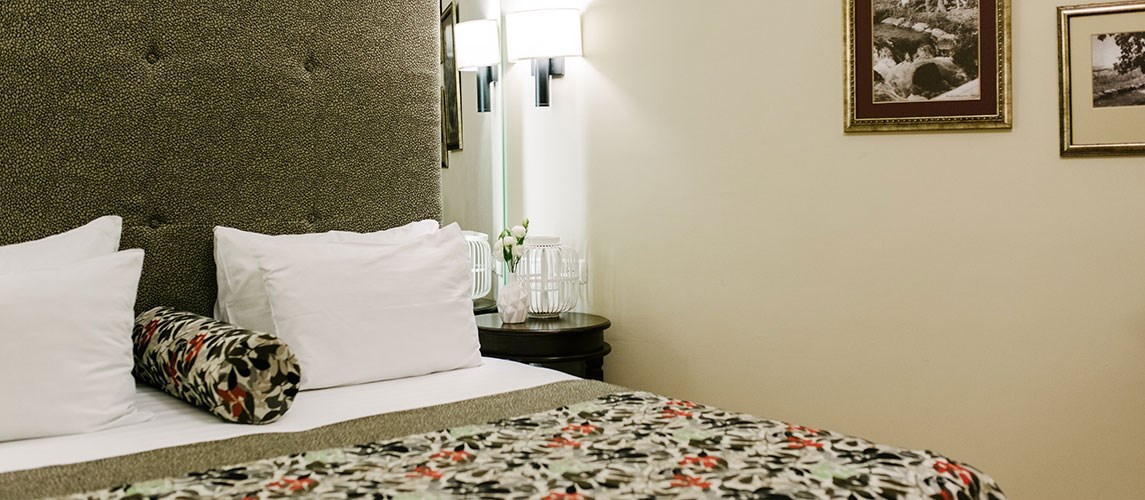 boutique family
2 boutique rooms conecting door.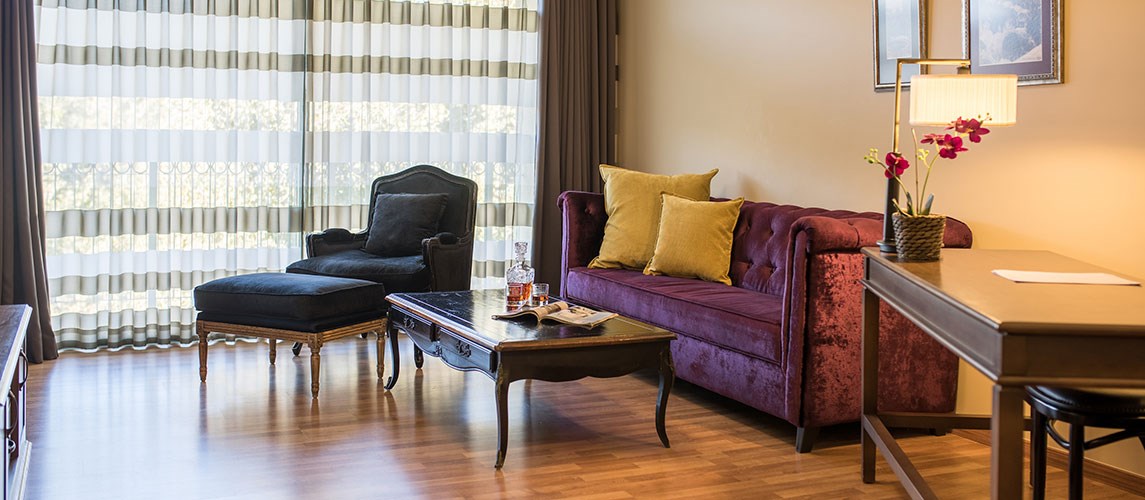 Boutque suite
Large suite with a big balcony on the upper floor with a wonderful view.
Leaving room and bed room with a hot tab near the bed room.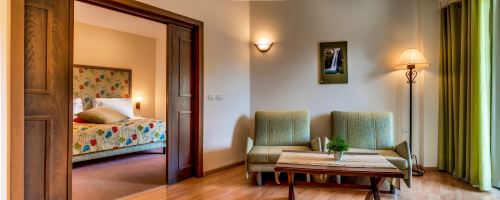 Suite
The Suite is in 4 stature building ("Levanon house") with an elevator. the Suite are with two balconies, quine-size bed, one LCD T.V & hottab .
the Suite is for a couple & two children max.
the room have a Mini-fridge & a coffee kit.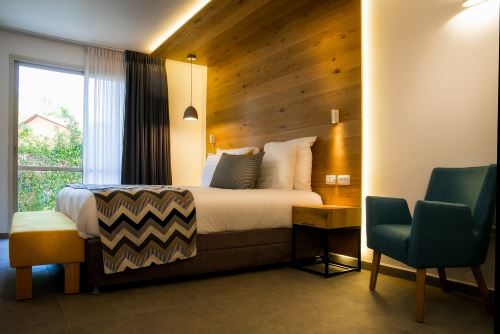 PREMIUM ROOM
NEW ROOM
TILL 2 GUESTS AT ROOM
INCLUDE ENTRANCE SPA .
(SUMMER AND HOLIDAY NOT INCLUDE SPA)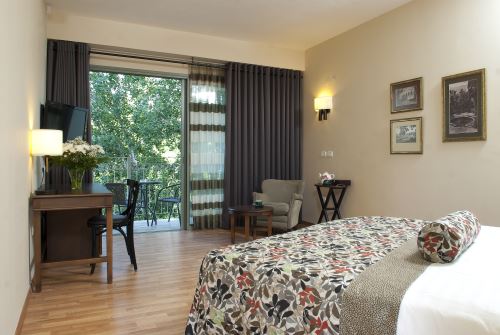 BOUTIQUE ROOM
Boutique room

TILL 3 GUESTS AT ROOM
INCLUDE ENTRANCE SPA .
(SUMMER AND HOLIDAY NOT INCLUDE SPA).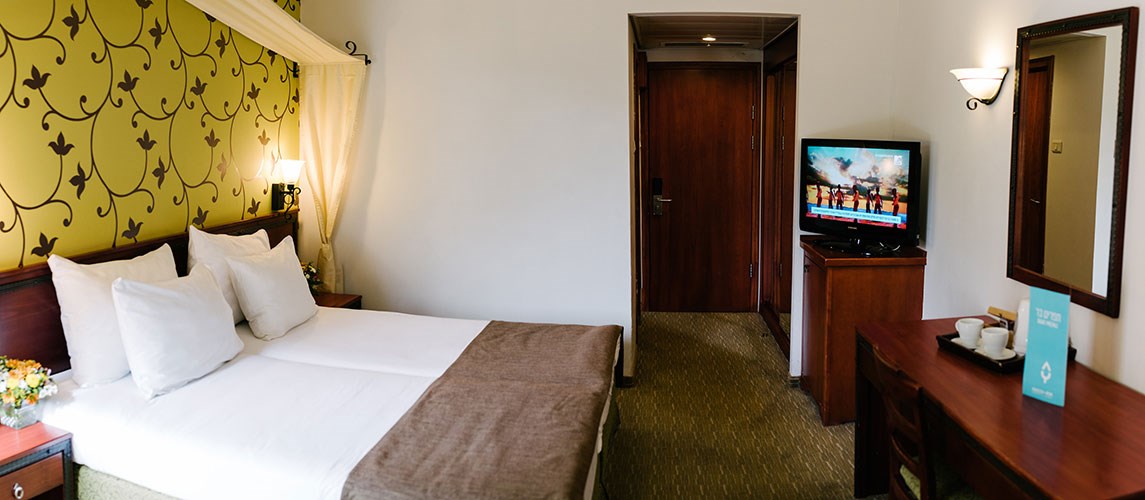 Rooms Division classical
Rooms Division classic . Each room with balcony
Up to three people per room.
Families over a pair of + child - Option 2 rooms with connecting door
Galery Room
Galery for family till 5 pax
In the room there is 11 stairs to a loft, were the parents sleep.
in the room 2 satelite TV ,coffee kit, 1 bathroom and 1 mini fridge.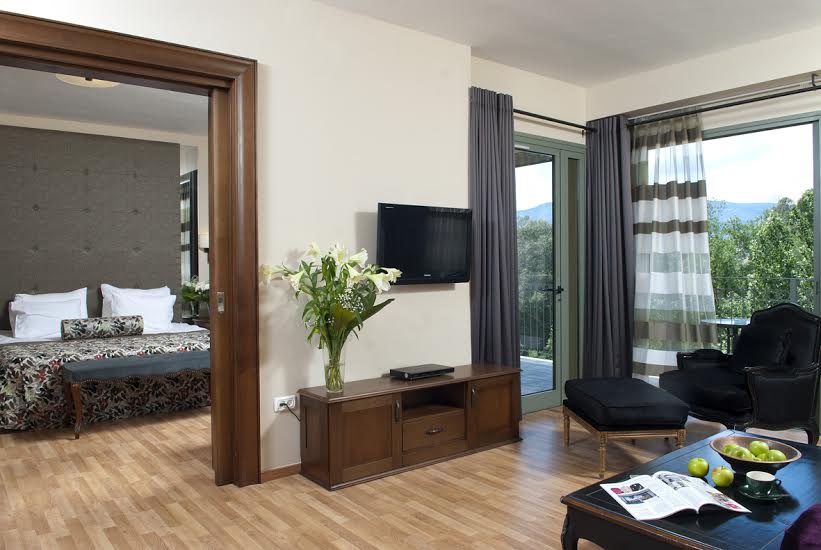 Boutique Suite - Hagoshrim hotel
This spacious 64 m² suite offers perfect VIP accommodation.
The suite has a bedroom with a double bed, a 40 "cable TV and a large Jacuzzi in a bathroom with clear glass (which can be closed) and a view of the view.
In the stylish living room you will find an elegant sitting area, 40 "cable TV, safe, mini fridge, coffee corner, work desk and Wi-Fi connection at no extra charge.
Further in the suite: a shower and a guest toilet and a large long balcony overlooking the reserve with a pampering hammock.
Guests of the boutique suite are welcome to enjoy the luxurious lounge and the Fiorina spa area throughout the stay at no extra charge.
Maximum room occupancy: a couple, all-year accommodation from 18 years of age or older.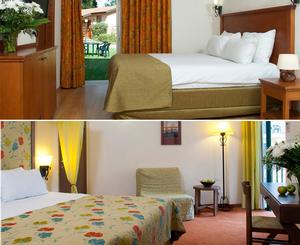 Two rooms with a connecting door (rustic / classic) - Hagoshrim hotel in nature
The hotel has a rustic wing that includes rooms in two-story and one-story buildings in a warm and pampering country style, tailored to couples and singles families and a classical wing that includes classic hotel-style rooms in two 4-storey buildings with elevators, allowing couples, families and individuals to be accommodated. .
For families of more than 3 persons, a two-room unit with a connecting door (rustic / classic)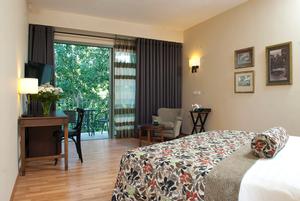 Boutique room - Hagoshrim hotel in nature
The new boutique section for adults only (over the age of 18) features spacious, romantic and beautifully decorated rooms. Guests of the boutique wing are invited to enjoy a luxurious accommodation during the entire stay, at no extra charge.
Hotel Services
Outdoor Seasonal Pool
Heated indoor Pool
Spa
Dining Room
Events Hall
Country Hotel
reviews Hagoshrim - Green Hotel
גילה ומרק ברנט (8)
2021-11-10
אייל הוכברג (8)
2021-10-12
אופיר ה גרמן (8)
2021-09-01
יחיאל שטיינמץ (8)
2021-06-21
צילה איסקוב (10)
2020-06-12
מקום יפה ,רגוע,להינות מהשוק,ואווירה פוסטרלית. מומלץ מאוד .