NEA BOUTIQUE HOTEL
HaEla St 3, Shavei Tzion, 2280600, Shavei Tzion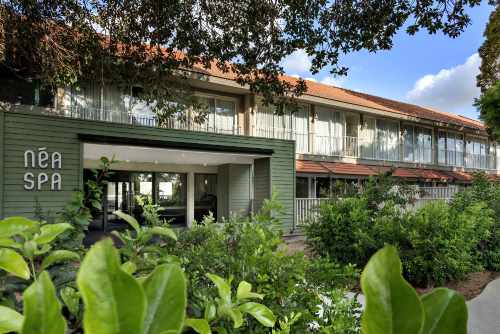 terms of cancellation
Cancellation Policy: Regular season - Cancellation of up to 2 business days prior to the date of stay without cancellation fees less than full charge. High season (July, August and holidays) - can be canceled up to 7 business days before the date of accommodation without cancellation fees. Cancellation of less than 7 business days full charge of the entire order
The NEA Hotel (NEA), a boutique hotel nestled in northern Israel, invites you to enjoy the tranquility and peace of nature, the pastoral vistas of the Galilee (including the turquoise ocean and breathtaking shores) and particularly luxurious rooms. Hotel guests can dine at the amazing chef's restaurant, relax in its spa facility with its array of therapies and even private villas with private pools. If you will it, everything's is possible.
The 74-room hotel includes various guest facilities: NEA VIBE Ocean Blue NEA SPA Galilee Green and even NEA BEACH HOUSE – villas with private pool.
All rooms have a balcony with an ocean view or a view of the pastoral gardens, a bathroom with high-end grooming products, robes and slippers, a Nesspresso coffee machine and many other pampering treats. Are you still here?
rooms
Superior Triple

The 23 square meters Superior Triple Room is suitable for anyone looking for a stylish simplicity. located in the main building the room offer a Nesspresso Coffee machine, equipped coffe and tea kit, refrigerator, safe deposit box, smart TV, beach towels and sandals are provided in the spacius and luxurious shower.

Executive Spa Room - Massage for one person per night included

Massage for one person per nigt is included in the room rate - please contact the Spa in the hotel The 25 square meters Exeutive Spa Room is ideal for anyone looking for tranquility, treatments and luxry offered by the Spa division. located in the Spa building the room offer the guest to engoy the private Lobby services, with healthy refreshments throughout the day. also in the room you can find a Nesspresso Coffee machine, equipped coffe and tea kit, refrigerator, safe deposit box, smart TV, beach towels and sandals are provided in the spacius and luxurious shower.

Executive Spa Room with Balcony-Massage for one person per night included

Massage for one person per nigt is included in the room rate - please contact the Spa in the hotel The 19 square meters Exeutive Spa with Balcony Room is ideal for anyone looking for the tranquility and luxury of the Spa building and a peek of what is going on in the recreational facility with a large spacious deck.located in the Spa building the room offer the guest to engoy the private Lobby services, with healthy refreshments throughout the day. also in the room you can find a Nesspresso Coffee machine, equipped coffe and tea kit, refrigerator, safe deposit box, smart TV, beach towels and sandals are provided in the spacius and luxurious shower.

Executive Spa Room with Garden-Massage for one person per night included

Massage for one person per nigt is included in the room rate - please contact the Spa in the hotel The 26 square meters Exeutive Spa with Garden Room is ideal for anyone looking to enjoy themselves in a private garden while breathing in the ocean air. located in the Spa building the room offer the guest to engoy the private Lobby services, with healthy refreshments throughout the day. also in the room you can find a Nesspresso Coffee machine, equipped coffe and tea kit, refrigerator, safe deposit box, smart TV, beach towels and sandals are provided in the spacius and luxurious shower.

BEACH VILLAS

Villa size 40 square meters + balcony Ideal for couple + up to three children– Private deck with swimming pool Luxurious bedroom with double bed– Living room with chaise lounge Healthy refreshments throughout the day at the spa facility Particularly spacious, luxurious bathroom with shower, grooming products, robes and slippers Fully equipped kitchenette with minibar and Nespresso machine Wireless internet, cable television, central air conditioning, safe, hairdryer and telephone

SUITE

Room size: 45 square meters Ideal for couple / family coupe + up to two children Bedroom with double bed Living room with two chaise lounges 2 balconys with a garden view and a window with an ocean view Particularly spacious and luxurious bathroom with bath, shower, grooming products, robes and slippers Well-equipped kitchenette with minibar and Nespresso coffee machine Wireless internet, 2 cable televisions, central air conditioning, hair dryer and telephone

SUPERIOR FAMILY SUITS

Room size: 35 square meters Ideal for families – couple + up to 2 children Bedroom with double bed Large couch that opens up into a bed Balcony with ocean or garden view Large, particularly spacious bathroom with grooming products, robes and slippers Well-equipped kitchenette with minibar and Nespresso coffee machine Wireless internet, 2 cable televisions, central air conditioning, safe, hair dryer and telephone

NEA HOTEL SUPERIOR SUITS

Room size: 25 square meters Ideal for single guest / couple Bedroom with double bed or two connected single beds (can be plit) Balcony with ocean- or garden-view Spacious, luxurious shower with grooming products, robes and slippers Well-equipped kitchenette with minibar and Nespresso coffee machine Wireless internet, cable television, central air conditioning, safe, hair dryer and telephone Rooms with connecting doors can be reserved
Map
back to results
close map