Ramot Resort Hotel
amot, Moshav Ramot, 12984 , Israel , Moshav Ramot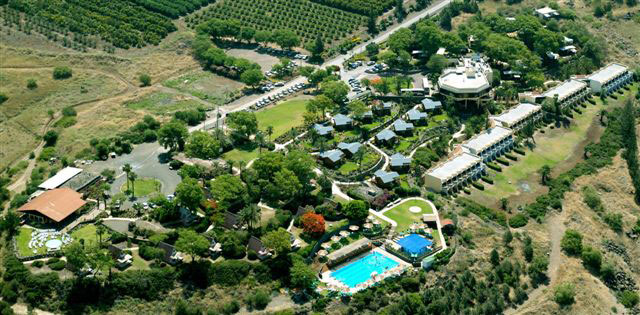 terms of cancellation
Up to 4 days prior to 1 night billing arrival.
In Northern Israel, at the foot of the Golan, overlooking the magnificent view of the Sea of Galilee, Indulging guest rooms for couples and families, surrounded by open lawns, breathtaking views, a swimming pool (in season), spa treatments, adventure trails and above all – first class luxurious service.
Our Resort features 123 beautifully decorated deluxe rooms, Nature Cabins and Chalets set among the lush landscaping of the Golan Heights and the Sea of Galilee.
rooms
Chalet

Luxurious, Country-Style Suites, offering a private, pampering world, Shower with hydro massaging jet heads, Private Sauna, Huge Jacuzzi, Extremely wide king size bed with pampering bedding, Children's room, Surround sound system, 42" Plasma Screen TV, Internet connection, Refrigerator, Sitting area and espresso machine, Private Patio and Garden overlooking the Sea of Galilee, Safe, Hair dryer. Private Parking. In addition, a pampering package, including: Natural soaps, Bathrobes and slippers, Sweet treats, A bottle of wine made from Golan grapes and lavish breakfast served to your room (couples only). (All prices not include v.a.t, Tourist exempt form v.a.t).

Chalet Deluxe

Luxurious, Country-Style Suites, offering a private, pampering world. In addition, a pampering package, including: natural soaps, bathrobes and slippers, sweets, a bottle of wine made from Golan grapes and If you wish you can have a lavish breakfast served to your room (for couples only). Private check in and check out, Parking. . The Chalet Deluxe Includes: • Shower with hydro massaging jet heads • Private Sauna • Huge Jacuzzi • Extremely wide, king size bed • Pampering bedding • Surround sound system • 42″ Plasma Screen TV • Internet connection • Refrigerator • Sitting area and coffee machine • Private Patio and Garden overlooking the Sea of Galilee • Safe Deposit • Hair Dryer

Nature Cabins

Indulging elegant wooden cabins, surrounded by greenery and breathtaking views providing a full spectrum of deluxe hotel services and facilities. The Nature Cabins include: • Quality king size bed with pampering bedding • Huge Jacuzzi • Children's room with LCD • 32″ LCD TV • Sitting area • Refrigerator • Coffee Corner • Balcony • Lawn and beautiful garden surrounding • Safe Deposit • Hair Dryer

Deluxe Hotel Rooms

The hotel wing includes Deluxe Rooms, beautifully designed with terraces or private exits to the lawns, overlooking a spectacular view of the Sea of Galilee. The Hotel Rooms Include: • Quality king size bed with pampering bedding • 32″ LCD TV • Sitting area • Refrigerator • Coffee Corner • Balcony or Garden • Safe Deposit • Hair Dryer
Map
back to results
close map