Blue Hotel
Simtat a Offerim 123 Eilat , Eilat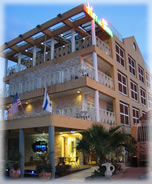 terms of cancellation
You can cancel an order without cancellation fees as follows:

Regular season - up to 3 business days before arrival.

In July-August - 7 business days prior to arrival.

On holidays - up to 14 business days prior to arrival.

After this date, or in case of no-show, a one-night cancellation fee will be charged.
Hotel Highlights
done

The city square is a 10-15 minute walk from the beach.

done

Diving, water sports, windsurfing at attractive prices for hotel guests.

done

Free WiFi is available in all hotel rooms and in public areas.

done

Free parking, a sports-friendly hotel with games at the sea

done

Bicycle rental, storage, Spa treatments and laundry room facilities for in-room use.
the signature hotel of the Reef Diving Group, offers a unique homely atmosphere that appeals to anyone searching for reasonably-priced, good sleeping accommodation.

Blue Hotel is especially aimed at scuba divers, surfers, water sports enthusiasts, cyclists and anyone seeking a pleasant atmosphere and an inexpensive inn to rest for the night.

Location: Blue Hotel is located in Simtat Ofarim - a quiet side street adjacent to Sderot Hatmarim, which is the main street of Eilat - only a few minutes walk away from Eilat's central bus station and the sea.
rooms
spacious basment apartment

spacious basment apartment 2 bedrooms 1 lounge with small kitchenett with microwave electric kettle dishes can sleep 6 person suituble for family only 1 bathroom with shower

Standard Twin

renovated standard room with 2 single beds fridge,electric kettle ,t.v free WIFI. modern renovated shower room. located 4th or 5th floor.

Basic Triple Room

basisc triple room with 3 single beds ,fridge,electric kettle shower ,free WIFI located ground floor or 1st floor above looby

Standard Triple

renovated standard room with 3 single beds fridge,electric kettle ,t.v free WIFI. modern renovated shower room. located 4th or 5th floor.

Basic Twin

basic room with 2 single beds fridge,electric kettel ,tv,free WIFI . located at the ground floor or at the 1st floor above lobby.

חדר בסיסי שתי מיטות יחיד- מלון בלו אילת
Map
back to results
close map