Herods Dead Sea Hotel
Hamei Zohar Ein Bokek Neve Zohar, 86910, Israel , Neve Zohar,
Situated on an exclusive private beach on the shores of Israel's famous Dead Sea, the Herods Dead Sea Hotel, Five Stars Hotel Rating, invites guests to experience a stay of incomparable luxury. The breathtaking location, exclusive designer interiors and exceptional range of spa facilities set the stage for the perfect pampering break. The hotel's private beach provides the perfect vantage point for admiring the impressive Edom Mountains while sunbathing or enjoying a relaxing stroll. The extensive spa facilities in the Herod's Vitalis Spa include the very latest in therapeutic spa treatments, along with a range of professionally administered pampering facial and body treatments. Guests are also welcome to enjoy some relaxing downtime in the Herods Dead Sea Hotel's Jacuzzi, Turkish bath, sulfur pool, wet and dry sauna and steam room. There's also the irresistible opportunity to take a dip in the heated indoor pool or head to the fitness suite for a reviving workout. Fattal hotels are widely acknowledged for their luxurious accommodation options. The 5 Stars Hotel, Herods Hotel, is no exception with rooms featuring superior décor and facilities as standard. When it comes to cuisine, guests at the Dead Sea Hotel can expect a fine-dining dining experience, with a range of dishes to suit the most discerning of a gourmet dinner. Herods Dead Sea has been awarded a Five Stars Hotel (rating) under the Israeli Ministry of Tourism grading scheme.
Show Map
reviews: 8.9
terms of cancellation
All year round ‎(except as specified below) 4 days prior to arrival, by 16.00 local time No penalty Cancellation within 4 days of arrival 1 night cancellation penalty No-Show 100% of total amount High season

29.03.2018 - 07.04.2018 Passover

15.04.2018 - 21.04.2018 High Season+Shavuot 06.05.2018 - 21.06.2018 05.08.2018 - 24.08.2018 High Season

09.09.2018 - 12.09.2018 Rosh Hashana

01.31.10.2018 High Season

21 days prior to arrival ,by 16.00 local time No penalty

Cancellation within 21 days prior to arrival 50% of total amount

Non-Show 100% of total amount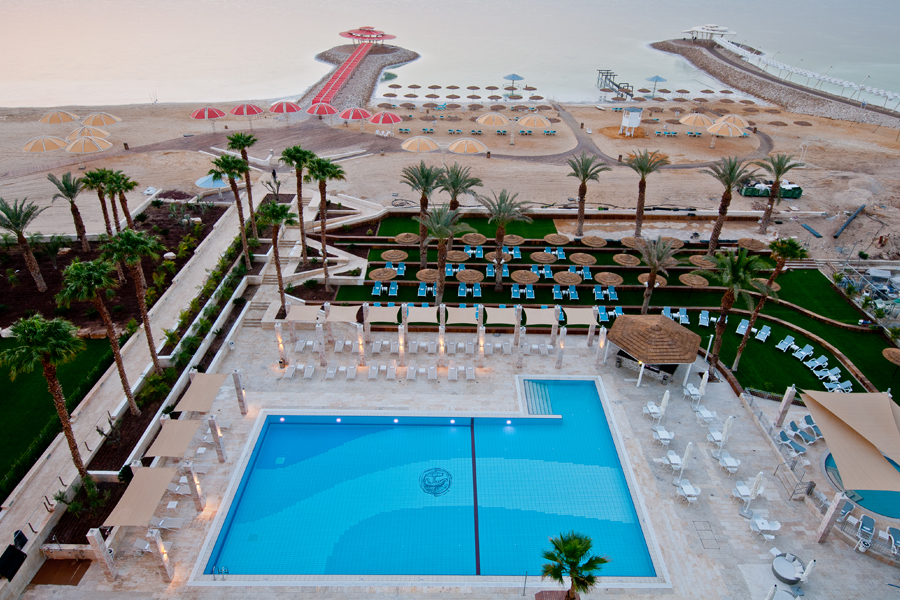 Executive Garden Family Room

Luxurious rooms for family accommodation include a private balcony and direct access to the pool. The hotel guests enjoy a VIP package: check in in a separate area, espresso machine and upgraded set, large bottle of water, sweet gift, bathrobes and slippers, free wireless internet, daily newspaper, free entrance to the spa and business lounge. By appointment. Please note: access to these rooms is on the stairs - no elevator.

EXECUTIVE ROOM

The spacious Executive rooms offer a perfect relaxing haven, with a luxury terrace. In-room, the wide range of welcome amenities ensure guests will need nothing more during their stay. 20 Sqm Max Occupancy 4 Guests

Executive Spa

Located on the Spa floor, these spacious rooms feature panoramic windows offering breathtaking views over the Dead Sea. Airy and spacious, a range of luxury amenities are provided including an ensuite bathroom featuring a bathtub, a King-sized bed, tea and coffee making facilities, in-room bottles of water.

Executive Room

The spacious Executive rooms offer a perfect relaxing haven, with a luxury terrace. In-room, the wide range of welcome amenities ensure guests will need nothing more during their stay.

Junior Suite

These generously proportioned Junior suites feature separate living and sleeping areas as well as a stunning terrace affording glorious views. VIP amenities and attentive 24/7 service are also included

Presidential Suite

s the most impressive among the Herods Dead Sea hotel rooms & suites, the Presidential Suite offers the ultimate in sophisticated elegance high on the 7th floor. The extensive accommodation features living and dining areas along with exclusive VIP benefits including private butler service.

Premium Room

These uber-luxurious Premium rooms are located high on the 7th floor and feature impressive and sophisticated viewing areas along with the superior facilities and services.

Executive Garden (with Pool) Room

Especially geared towards our VIP guests, the Executive Garden with Pool rooms offer seclusion and luxury, superb views and top of the range amenities.

Executive Spa Room (Without Balcony)

The generously sized Deluxe Spa rooms at the Herods Dead Sea offer panoramic views of the Dead Sea Read more Room Size 18 Sqm Max Occupancy 2 Guests

Executive Sun Room

These spacious rooms with an extensive sun terrace offer the perfect vantage point for admiring the Dead Sea Read more Room Size 19 Sqm Max Occupancy 2 Guests

Excutive Room

The spacious Executive rooms offer a perfect relaxing haven, with a luxury terrace. In-room, the wide range of Read more Room Size 26 Sqm Max Occupancy 4 Guests
back to results
close map