Kfar Maccabiah Hotel & Suites
★★★★
7 Peretz Berenstein Street, Ramat Gan, 52109, Israel , Ramat Gan
Kfar Maccabiah Hotel & Suites Kfar Maccabiah is a unique complex of hotel, a convention and event center and a sports club, extending across some 20 acres of lush green land. Kfar Maccabiah is ideally located close to the Ramat Gan National Park and Safari Park in the center of "Gush Dan", and close to all of Israel's main access routes; just 15 minutes from Ben Gurion Airport and from Tel Aviv's business and leisure centers. At Kfar Maccabiah, parking is ample and free. categories of one four-star hotel and one five-star luxury suite hotel Hotel guests enjoy free use of the biggest sports club in Israel along with its amenities which include 5 swimming pools (including 2 indoor pools heated in winter), a fitness center (supplementary fee), 14 tennis courts, squash and basketball courts, and a wide variety of activities for all ages*. Hotel facilities include:a luxurious lobby, restaurants, 24 hour room service, the prestigious, pampering Time Out Spa, business lounge, shuttle to and from the airport, post office and bicycles rentals.
rooms
Superior room
Each room can accommodate up to 4 guests.
Each room is equipped with a work desk, suitable both for business guests and family vacations, LCD screen, coffee/tea stand, mini-bar, and a safe-box appropriate for a laptop.
WI-FI internet – free of charge.
All rooms are with balconies.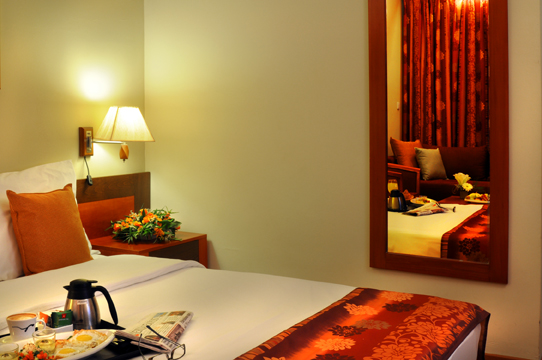 Standard room
Standard rooms are fully-equipped with a work desk LCD screen, mini-bar, coffee/tea stand and a safe box.
*some rooms have balconies.
WI-FI internet – free of charge.
Each room can accomodate up to 2 guests.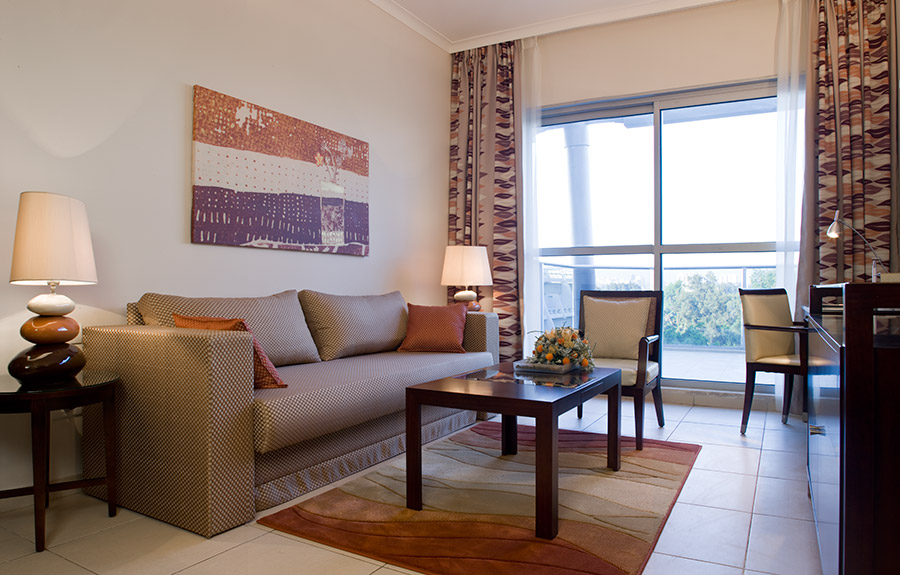 2 Bedroom Suite
75 Square Meters+ Big Balcony 15 Square Meters. 2 Bedrooms And A Living Room.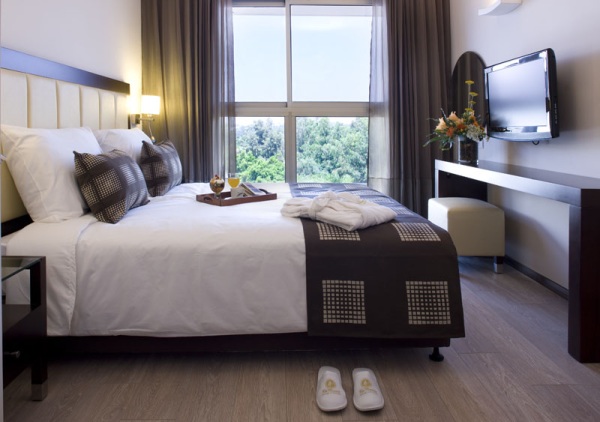 One Bedroom Suite
The Suites Hotel Offers Guests The Luxury Of A Large, Spacious Suite. Suite Consisting Of One Bedroom + 52 M. Living Room, And A Large 9 M. Balcony. The Spacious Suites Are Ideal For Business Guests As Well As Family Vacations. Suites Are Equipped With A Work Desk, Balcony Furniture, Two Toilets (Guest Toilet + Shower Room In The One-Bedroom Suite, Two Shower Rooms In The Two-Bedroom Suite), Home-Size Storage Closets, LCD TV Screens, Tea/Coffee Stand, Mini-Bar, And A Safe Large Enough To Hold A Laptop. WI-FI Internet – Additional Cost.
Hotel Services
Outdoor Seasonal Pool
Unheated Indoor Pool
Spa
Gym
Kids Club
Sun terraces in Some Rooms
Refrigerator in the Room
Free Parking
Dining Room
Meeting Room
Business Hotel
Luxurious suites
lang_basketball_court מגרש כדורסל
lang_tennis_court מגרש טניס
lang_soccer_court מגרש כדורגל
reviews Kfar Maccabiah Hotel & Suites
אבירם Lieberman (8)
2021-12-16
אהובה ויינברגר (8)
2021-12-03
משה נפתלי (9)
2021-08-31
היה נעים וטוב,שרות אדיב ומהיר.
יאנה בן שושן (8)
2021-08-13