U Magic Palace Eilat
North Beach, Eilat, Israel, Eilat
The U Magic Palace Eilat Hotel invites guests to enjoy the ultimate lively and exciting break, with enough on-stop entertainment and activities to keep the whole family happy night and day. The fun-packed kids club, top notch dining options and indulgent spa facilities provide all the ingredients for the vacation of a lifetime. Guests at the U Magic Palace Eilat Hotel can enjoy a variety of high quality entertainment from acrobatic and dance performances to musicals the whole family will love. Children have a wealth of fun-packed activities geared towards them too. These include creative cookery workshops, plus a dedicated Kids Club at their disposal where toddlers to teens can enjoy age-appropriate activities guaranteed to banish boredom for good. The U Magic Palace Eilat Hotel's skilled entertainment crew are on hand to ensure the fun never stops, with an action-packed program of poolside competitions and high energy performances, while there's also the option of a swim under the stars in a late night pool session. Guests have a varied range of excellent dining options to select from as well as the opportunity to enjoys relaxing drink in the lobby bar.
rooms

U Superior Room Accessible
Pleasant rooms located on the first floor of the hotel, offering a balcony, TV, coffee and making tea kit, shower, wide access doorway and more.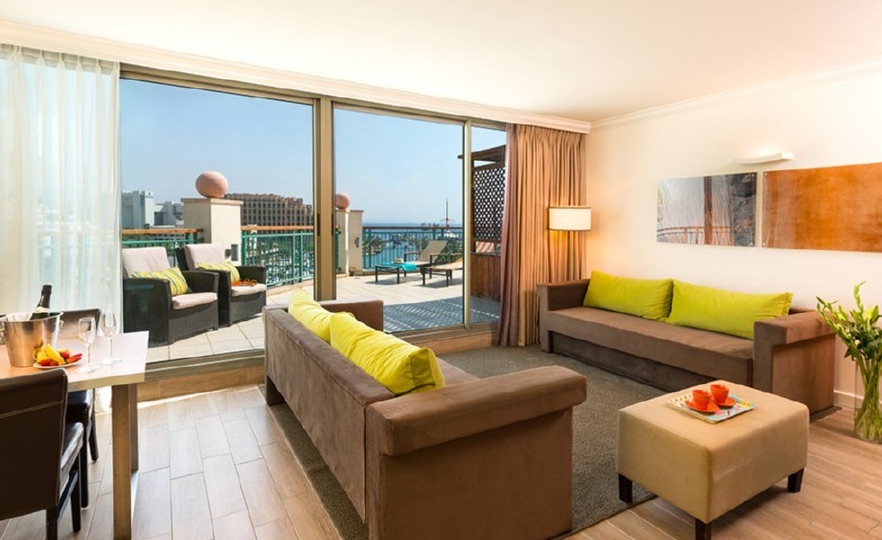 U Palace Suite
The luxurious U Palace Suite offers a large terrace with sunbeds and view to the pool or the lagoon, Jacuzzi, pergola, bedroom and separate living room with dining room and two sofa beds. The Suite is equipped with 2 LCD TVs, air conditioning, desk, telephone, coffee & tea making-facilities, safe and two large bathrooms featuring bathtub/shower, toilet and hairdryer.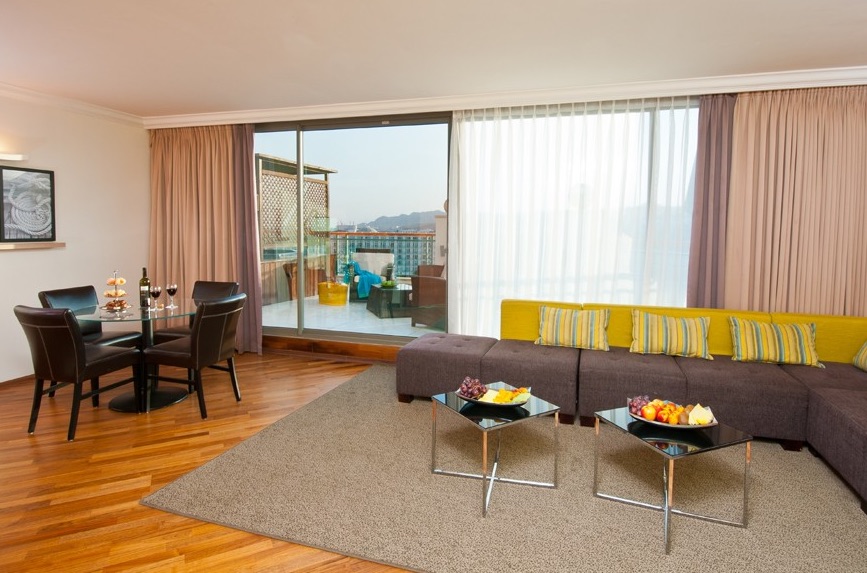 U Royal Suite
These outstanding U Magic Palace Eilat Hotel rooms & suites offer a superior level of accommodation for those Read more
Room Size
57 Sqm
Max Occupancy
2 Guests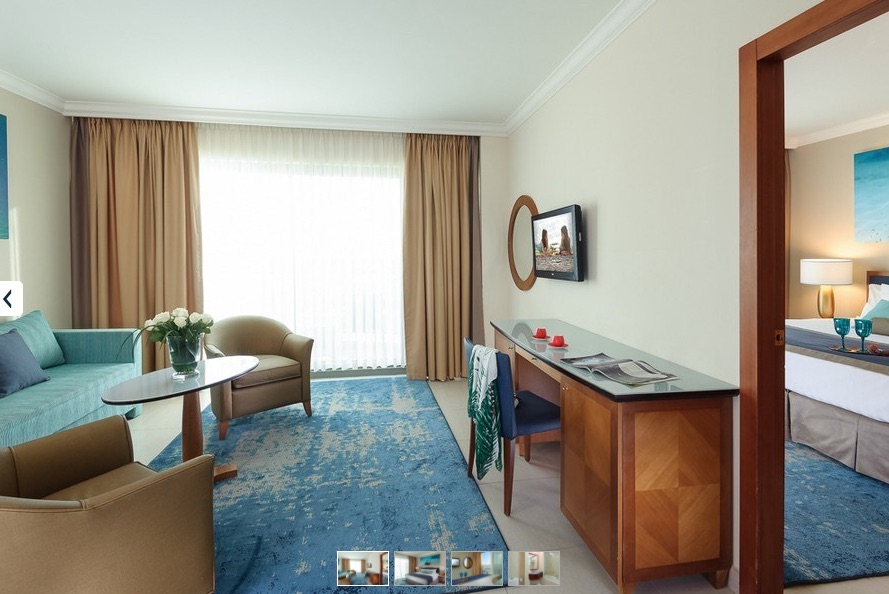 Junior U Family
With two bathrooms, a separate living room and bedroom this suite can comfortably fit up to two adults and three children. The inclusion of two LCD TVs means no arguments about which channel to watch, while the wide range of amenities are all designed to ensure a relaxing family vacation. Tea and coffee making facilities, a mini-bar, hairdryer and direct dial phone are additional welcome conveniences.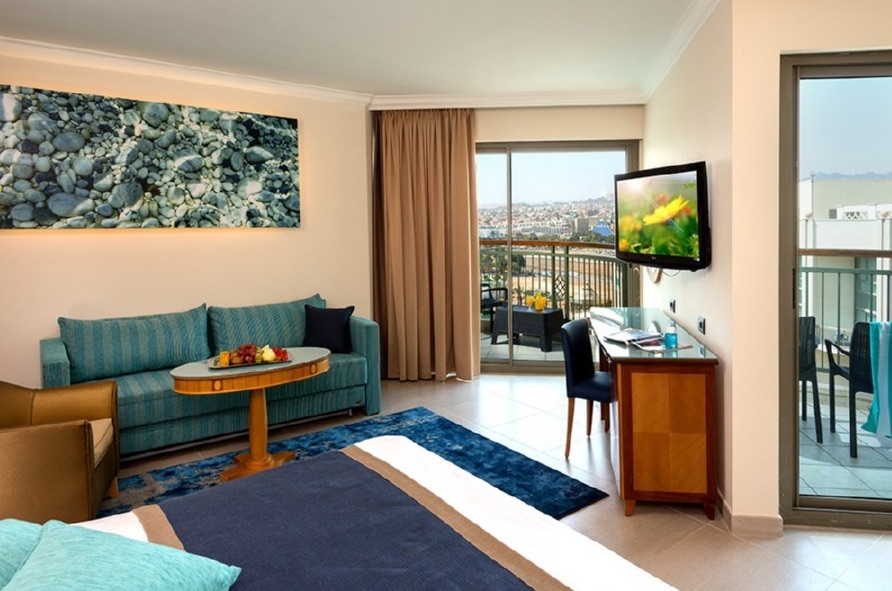 U Deluxe Family Balcony
Guests can enjoy spectacular panoramic views from this spacious room which is suitable for up to two adults plus three children. The attractively furnished accommodation features a comfortable sitting area and a balcony with plenty of space to relax on and enjoy the views. Guests also benefit from a King-sized bed plus comfortable sofa bed, along with an ensuite bathroom, tea and coffee kit, mini-bar and LCD TV.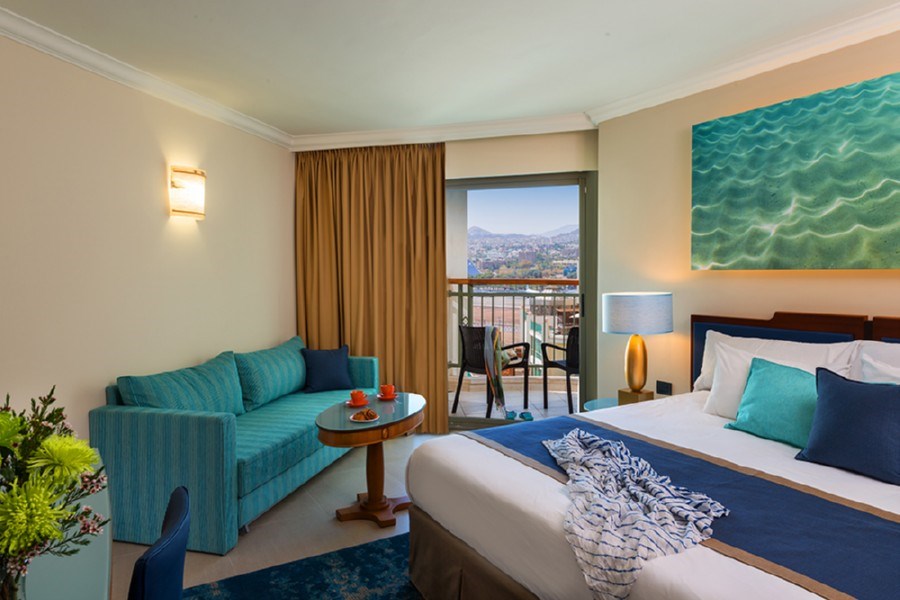 U Superior room with Balcony
These comfortable and spacious rooms offer city views from private balconies, and feature comprehensive facilities including the option Read more
Room Size
24 Sqm
Max Occupancy
4 Guests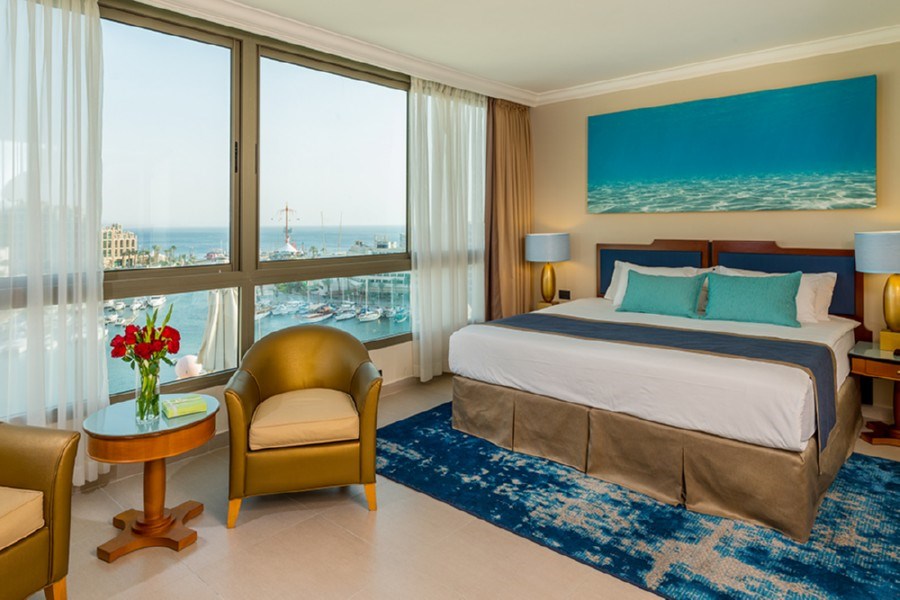 U Deluxe
Superior accommodation option for larger families with an extensive amount of space, along with a comprehensive set of Read more
Room Size
33 Sqm
Max Occupancy
5 Guests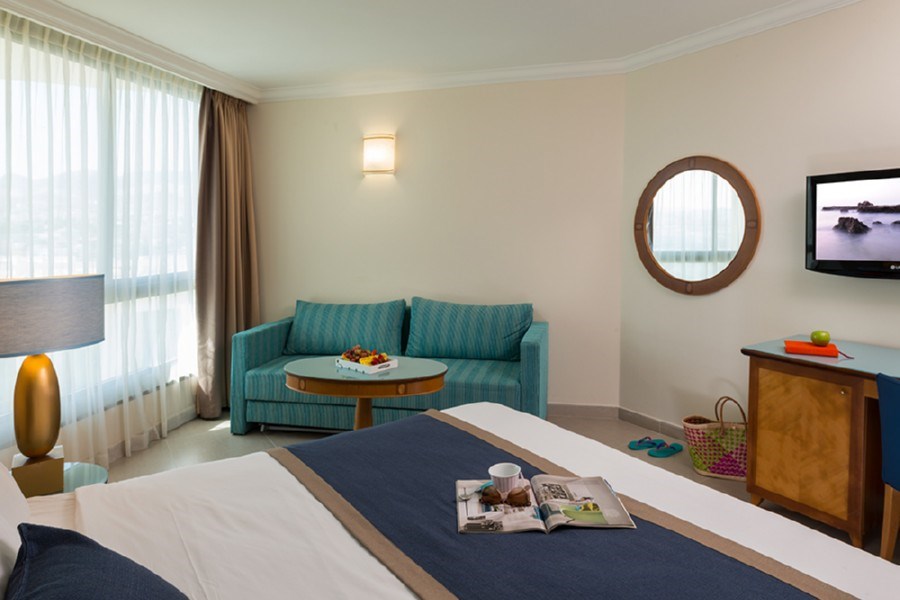 U Superior room pool view
Both attractive and practical, these rooms offer plenty of space for all the family. There are also enough Read more
Room Size
24 Sqm
Max Occupancy
4 Guests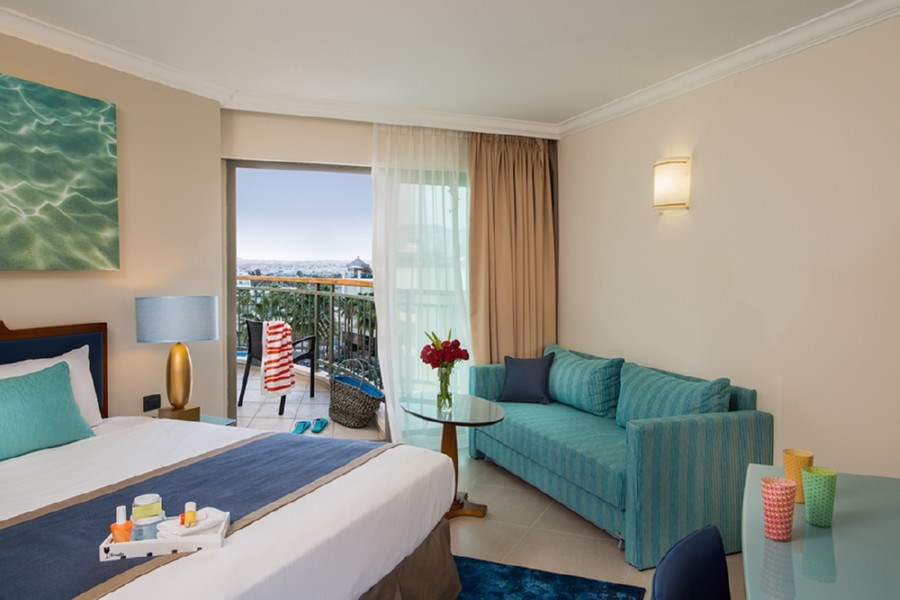 U Superior room pool view with balcony
Guests can admire poolside views from an exclusive private balcony as part of their stay. There are also Read more
Room Size
24 Sqm
Max Occupancy
4 Guests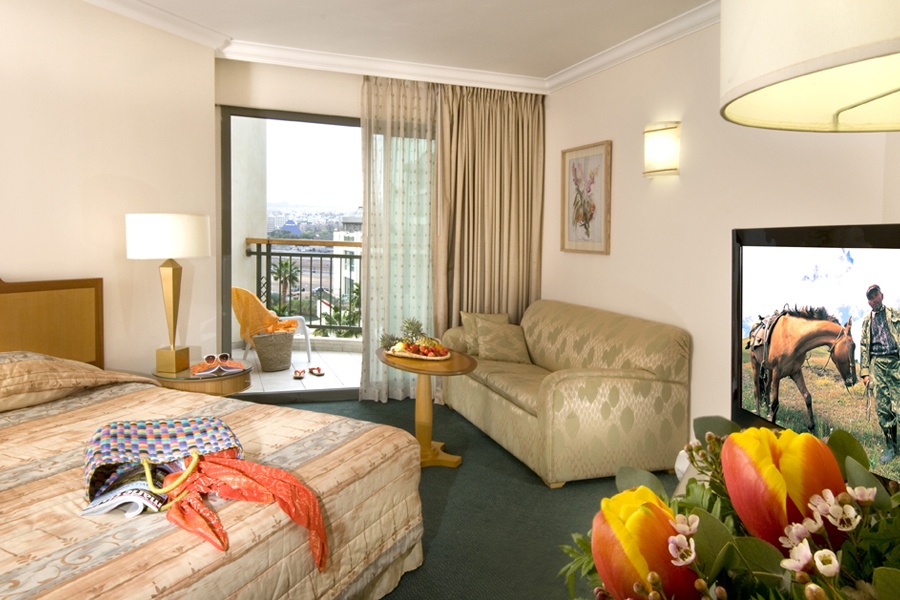 U Superior room with Balcony
These comfortable and spacious rooms offer city views from private balconies, and feature comprehensive facilities including the option Read more
Room Size
24 Sqm
Max Occupancy
4 Guests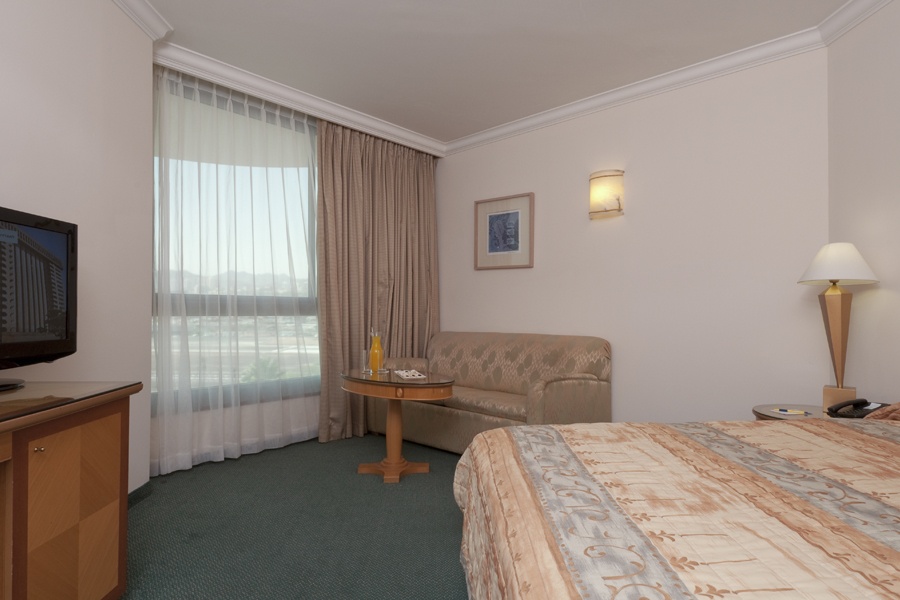 U Superior rooms
These generously-sized rooms offer the perfect relaxing space in which to retreat after a busy fun-packed day. Featuring Read more
Room Size
24 Sqm
Max Occupancy
4 Guests
Hotel Services
Outdoor Seasonal Pool
Spa
Kids Club
Parking based on Availability
Dining Room
Free WiFi
WiFi in the Rooms
lang_electric_vehicle_stand עמדת רכב חשמלי
reviews U Magic Palace Eilat
טבעונה אזרק (8)
2022-02-26
מרוואן גנאים (8)
2022-02-19
מרוואן גנאים (8)
2022-02-19
שמוליק דנזן (8)
2022-02-05
מתתיהו ניר (6)
2022-02-05
אוכל גרוע