Dan Carmel Haifa
85-87 Hanassi Avenue, Haifa 34642 Israel, Haifa
As the first exclusive hotel in the City of Haifa, The Dan Carmel's perfectly placed mountain top location allows for panoramic views of the Mediterranean Sea with a breathtaking backdrop. Overlooking Haifa Bay and the Galil & Golan Landscapes, the sheer magnificence is simply overwhelming. The Dan Carmel's recently refurbished rooms and suites are all designed with classic and elegant tones, complete with modern accessories and luxurious comforts, as expected in the best hotels in the world. Extra-Large bathrooms designed for indulgence and 42-Inch LED screens with multimedia outlets enable you to relax and unwind after a rigorous day of touring or work. Dan Carmel's stylish lobby and public areas are a perfect place to gather ones thoughts, and the large swimming pool, hidden between the all trees of the luscious gardens, create an enchanting relaxation zone, enabling one to reconnect and re-energize.
Show Map
reviews: 9
terms of cancellation
Cancellation of stay for less than 2 business days prior to the date of arrival will be charged the first night's cost. No 2 nights' stay or charge The entire period (whichever is lower)

2: August peak in Dan Hotels in Eilat, Dan Akkadian and on holidays *: in the chain's other hotels

In addition, in the Jerusalem and Eilat hotels, the Christmas period - New Year's Day -

Cancellation to be made up to 7 days before arrival, no cancellation fee will be charged.

It is possible to cancel up to 7 business days prior to the date of stay without cancellation fees.

A cancellation / shortening of between 7-2 days prior to arrival will be charged for one night.

Cancellation / Cancellation Less than 48 hours prior to arrival, a cancellation fee of 2 nights or the entire stay (whichever is lower) will be charged.

In case of non-arrival during peak period (August, holidays) charge of the entire period ordered.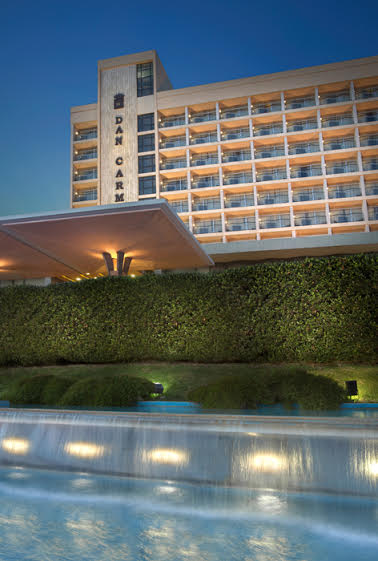 Executive Carmel & Sea View Triple Room

Luxurious and spacious rooms on floors 5-10; each with a private balcony, with a view of the Mount Carmel Slopes and the Mediterranean Sea to the south. Large and fully accessorized bathroom with walk-in shower. Large LED TV screen with multiple multimedia connections. More details: 35Sq. m/ Max 3 persons

Royal Suite

Luxury and very spacious rooms located in the 10th floor; including a huge private balcony with a view of the Haifa Bay, and all the Northern area, the Galilee and the Golan. The suite includes two separate rooms: one bedroom and one living room. You can add another room. A large LED screen, with several multimedia connection options in the bedroom and the living room. A large equipped bathroom, with a Jacuzzi, a separate shower and a LCD television screen. Free access to the Exclusive Lounge King David located on the 10th floor (from the age of eighteen). More details: 148 ft²/up to 2 guests

Presidential Suite

Located on the 10th floor; with a large private balcony, with a view of with a view of the Haifa Bay and the Galil and Golan Landscape. The Suite includes a large bedroom and a fully equipped living room – an additional bedroom can be added. Large LED TV screen with DVD in both the living room and bedroom. An especially large and fully accessorized bathroom with a LCD TV screen and a hot-tub. Free entrance to the exclusive "King David" Lounge (from age 18). More details: 148Sq. m/ Max 2 persons

Ambassador Suite

Located on the 10th floor; with a private balcony, with a view of with a view of the Haifa Bay and the Galil and Golan Landscape. The Suite includes a bedroom and a fully equipped living room – an additional bedroom can be added. Large LED TV screen with DVD. An especially large and fully accessorized bathroom with a LCD TV screen and a walk-in shower. Free entrance to the exclusive "King David" Lounge located on the 10th floor (from age 18). More details: 75Sq. m/ Max 2 persons

Executive Suite

Especially luxurious and spacious rooms on floors 5-9; each with 2 private balconies, with a view of Mount Carmel Slopes and the Mediterranean Sea to the south. The Suite includes a 2 separate rooms: a bedroom and a living room – an additional bedroom can be added. Large LED TV screen with multiple multimedia connections in both the living room and bedroom. An especially large and fully accessorized bathroom with a LCD TV screen and a walk-in shower. Free entrance to the exclusive "King David" Lounge located on the 10th floor (from age 18). More details: 62Sq. m/ Max 2 persons

Studio Room

Especially luxurious and spacious rooms on floors 1-8; each with a private balcony, with a panoramic view of Mount Carmel, the Mediterranean Sea and part of the Haifa Bay. The Suite includes a spacious sleeping area and large hosting area and an especially large and fully accessorized bathroom with a LCD TV screen and a walk-in shower. Large LED TV screen with multiple multimedia connections. Free entrance to the exclusive "King David" Lounge located on the 10th floor (from age 18). More details: 60Sq. m/ Max 2 persons

Executive Bay Triple Room

Luxurious and spacious rooms on floors 5-10; each with a private balcony, a view of the Haifa Bay and the Galil and Golan Landscape. Large and fully accessorized bathroom with walk-in shower. Large LED TV screen with multiple multimedia connections. More details: 35Sq. m/ Max 3 persons

Executive Carmel & Sea View Room

Luxurious and spacious rooms on floors 5-10; each with a private balcony, with a view of the Mount Carmel Slopes and the Mediterranean Sea to the south. Large and fully accessorized bathroom with walk-in shower. Large LED TV screen with multiple multimedia connections. More details: 35Sq. m/ Max 2 persons

Executive Bay View Room

Luxurious and spacious rooms on floors 5-10; each with a private balcony, with a view of the Haifa Bay and the Galil and Golan Landscape. An especially large and fully accessorized bathroom with a LCD TV screen and a walk-in shower. Large LED TV screen with multiple multimedia connections. Free entrance to the exclusive "King David" Lounge located on the 10th floor (from age 18). More details: 35Sq. m/ Max 3 persons

Deluxe Bay View Room

Luxurious and spacious rooms on floors 1-4; each with a private balcony, facing north overlooking the Haifa Bay. Large, well equipped bathroom with walk-in shower. Large LED TV screen. More details: 35Sq. m/ Max 4 persons

Deluxe Carmel & Sea View Room

Luxurious and spacious rooms on floors 1-4; each with a private balcony, facing south overlooking the Mount Carmel and the Mediterranean Sea. Large, well equipped bathroom with walk-in shower. Large LED TV screen. More details: 35Sq. m/ Max 4 persons
back to results
close map