Inbal Hotel Jerusalem
3 Jabotinsky Street Jerusalem 92145, Jerusalem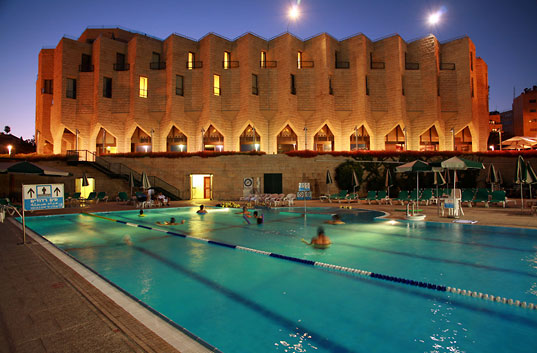 terms of cancellation
For cancellations less than 48 hours prior to the arrival date or Non Show, a cancellation fee will be charged for the cost of a one-night bed and breakfast.
Hotel Highlights
done

Walking distance from the Old City

done

Beauty spa and Fitness Center.

done

Variety of restaurants at the hotel

done

Business lounge

done

Free parking
We welcome you to join us at one of the leading Jerusalem hotels, the Inbal. Enriched by the capital city's unique ambiance, vibes and spectacular views, the Inbal Jerusalem Hotel is not only one of the finest Jerusalem hotels, but is also a doorway to the city's grand culture, tradition and history. The Inbal is in walking distance to the city's main tourist attractions, shopping areas and entertainment centers, near an array of unique and memorable historic sites.

rooms
Standard Family Unit

Standard Family Unit

Standard Connecting

Standard Connecting

Old City Suite

Old City Suite

Old City Connecting

Old City Connecting

Family Suite

Beautifully designed suite with a bedroom and full bathroom for the parents and an easy-to use sliding door separating the children's bedroom and bathroom. The Family suite is suitable for up to 2 adults + 2 children and faces the stunning old city

Deluxe Family Room

Deluxe Family Room

Standard Old City Balcony

With its balcony you can practically reach out and touch Jerusalem's Old City walls while enjoying the luxuriant feel of a finely furnished Standard Room. With its tasteful design, the sophisticated tone of Standard Old City Room provides warmth and elegance. All guests enjoy free internet service, complimentary fresh fruit, a coffee & tea set, and full access to our spa and fitness center. Elegant, comfortable rooms (24 m2 or 258 ft2) Balcony overlooking the Old City Free WiFi, satellite LCD TV and electronic safe Hairdryer With its balcony you can practically reach out and touch Jerusalem's Old City walls while enjoying the luxuriant feel of a finely furnished Standard Room. With its tasteful design, the sophisticated tone of Standard Old City Room provides warmth and elegance. All guests enjoy free internet service, complimentary fresh fruit, a coffee & tea set, and full access to our spa and fitness center. Elegant, comfortable rooms (24 m2 or 258 ft2) Balcony overlooking the Old City Free WiFi, satellite LCD TV and electronic safe Hairdryer

Executive Connecting

Executive Connecting

Deluxe Connecting

Deluxe Connecting

Standard Old city

Standard Old city

Standard Room

Standard Room

Presidental Suite

Exquisitely designed 3 room Suite with a very large terrace facing the stunning Old City Includes access to the hotel's exclusive Executive Lounge

Penthouse Suite

This unique suite gives an instant feeling of a luxurious Jerusalem apartment. Suite includes a tasteful living room and dining corner, upgraded power shower and 2 large LCD TVs. Gorgeous terrace balcony with sun beds and parasols sweeps out to breathtaking views of the Old City.

Executive Room

Newly renovated rooms with contemporary design which are elegantly spacious rooms . Rate includes all-day access to the exquisite Executive Lounge and upgraded amenities including luxurious toiletries, towels and linen. Executive Lounge access from aged 18 years only
Map
back to results
close map