Leonardo Plaza Hotel Tiberias
1 Habanim Street, Tiberias, 14103, Israel , Tiberias
The Leonardo Plaza Tiberias Hotel offers guests the ultimate relaxing and rejuvenating vacation in a unique and tranquil location. Guests will have plenty of opportunity for quiet contemplation, while the hotel's thrilling entertainment and activity program ensures that everyone will enjoy the perfect vacation. The magical shores of the famous Sea of Galilee provide the perfect backdrop to a restful and indulgent vacation. With one of the best locations of all the hotels in Tiberias, the Leonardo Plaza offers guests breathtaking views over the Kinneret and surrounding mountains. The luxury accommodation options, attentive service and incredible onsite spa facilities provide all the ingredients for the ultra-relaxing and pampering break. There's also plenty of higher octane entertainment and activities on offer for younger guests who are welcome to join in the fun at the onsite kids Club where they can make new friends, play games and win competitions. The Leonardo Plaza Tiberias hotel invites guests to dine in style with delicious dishes made from the freshest of ingredients. Accommodation options are in the very best league of all Tiberias Hotels, with rooms and suites equipped with a variety of unexpected welcome conveniences, ideal for couples on a romantic getaway or an unforgettable vacation for all the family.
rooms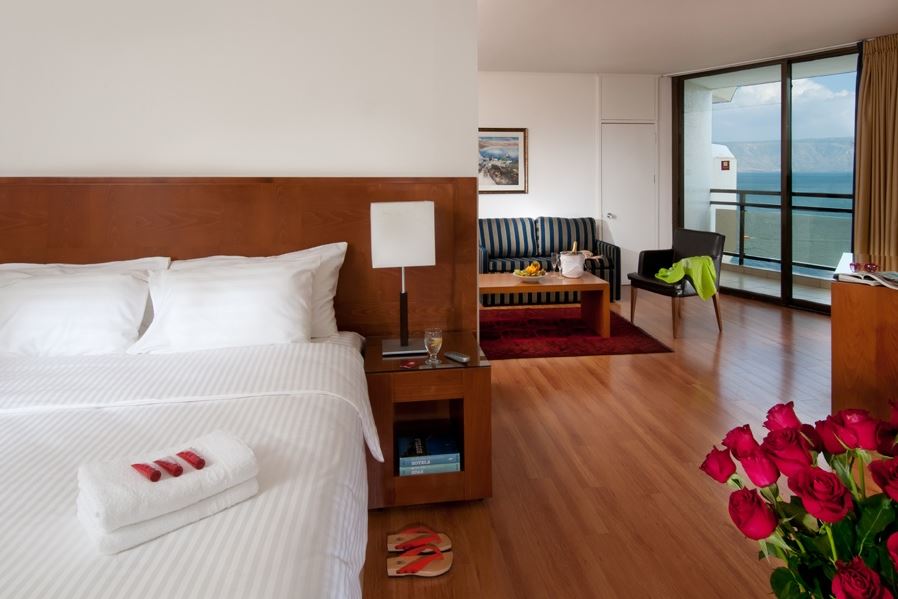 Junior Suite
<סוויטות יוקרתיות מרווחות הכוללות אבזור עשיר ומפנק: סלון מרווח, חדר אמבטיה, חדר שינה מעוצב עם מיטה זוגית, 2 טלוויזיות, ערכת קפה ומכונת אספרסו, תחנת עגינה לאייפון, חלוקים ונעלי בית ואינטרנט אלחוטי חינם. אורחי סוויטות ג'וניור נהנים מכניסה חופשית לספא המלון ומ-15% הנחה על הטיפולים השונים.

תפוסה מרבית: זוג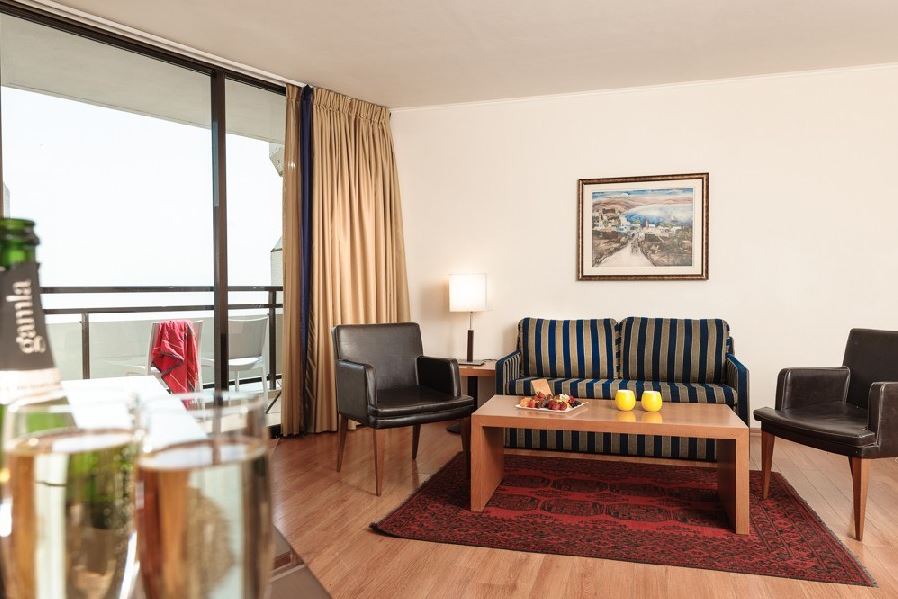 Studio
A family studio room. double+3 children. equipped with leaving room, bed room, bathroom, 2 TV and coffee&tea facilities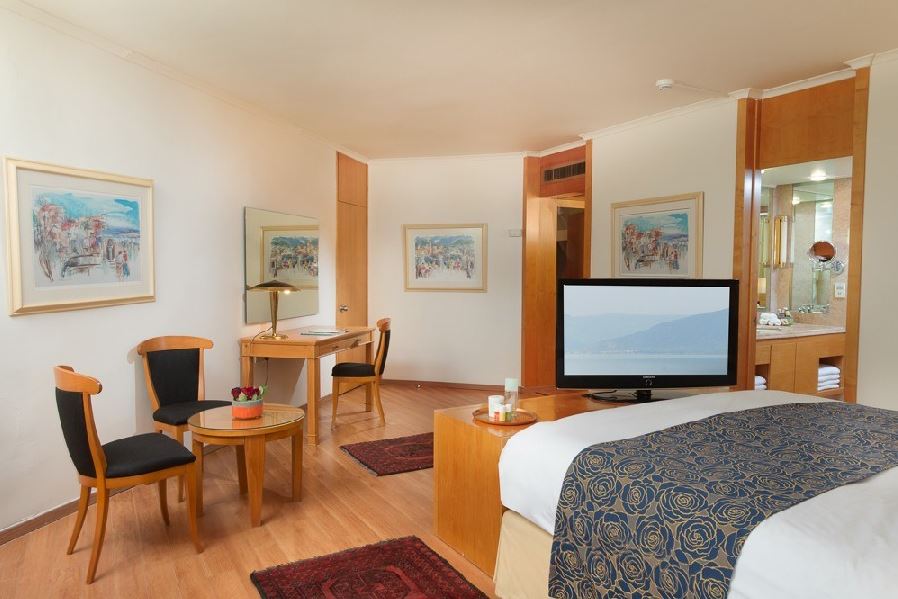 Executive Suite
This is the biggest suite the Leonardo Plaza Tiberias can offer you. With an especially large bedroom with an LCD TV, a living room with panoramic windows to enhance the view of the Sea of Galilee, also with an LCD TV, two private bathrooms, and a spacious balcony. In addition, there is a little kitchenette. You will find yourself in the lap of luxury when you spend your vacation in this suite.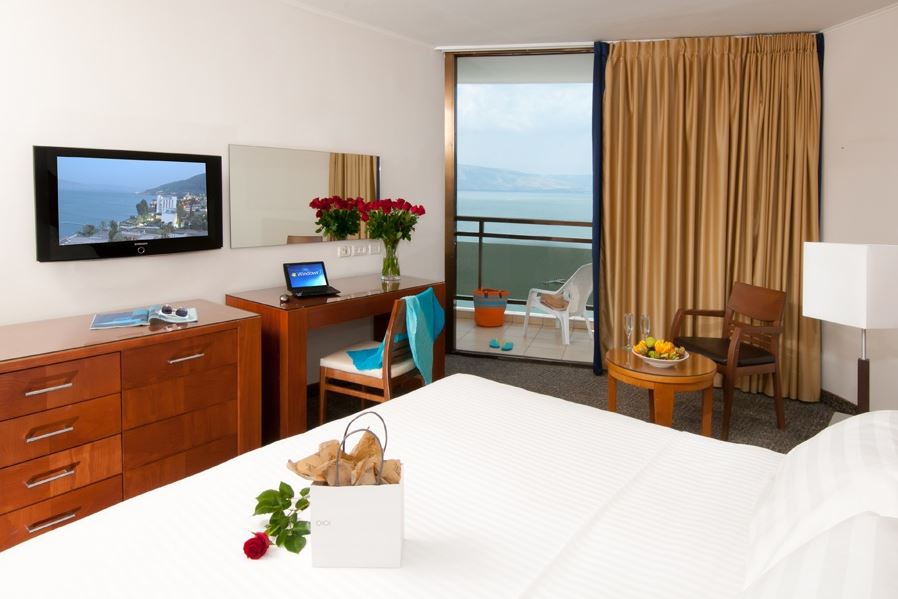 Deluxe Sea View
חדרים משפחתיים בעיצוב חדיש ומתקדם הכוללים 2 מיטות נפרדות (אין מיטה זוגית).
תפוסה מרבית: זוג + 2 ילדים או 3 מבוגרים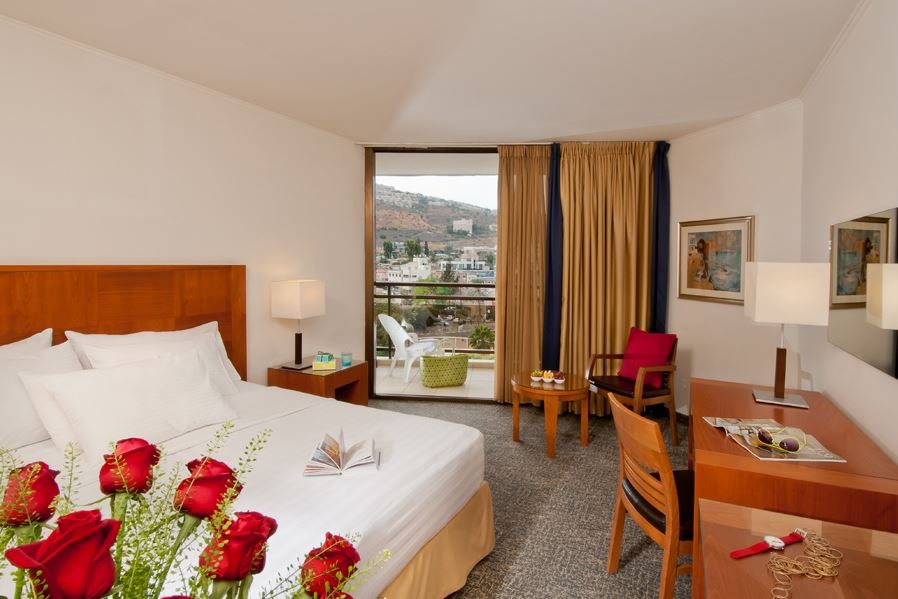 Deluxe
חדרים מעוצבים ומפנקים המשקיפים לעיר. החדרים מתאימים לאירוח משפחתי או ל-3 מבוגרים וכוללים 2 מיטות נפרדות (אין מיטה זוגית).
Hotel Services
Outdoor Seasonal Pool
Gym
Kids Club
Dining Room
Events Hall
Meeting Room
reviews Leonardo Plaza Hotel Tiberias
פנינה ברבי (4)
2022-02-19
השירות במלון אדיב מאוד, אך האוכל חייב שיפור. ממש מאכזב.
גדי עטיה (9)
2022-02-01
תודה
עוזי ניסים (9)
2022-01-08
צוות העובדים עם חיוך ועזרה אדיבה בכל בקשה
דניאל אלישה (8)
2022-01-08
דניאל אלישה (8)
2022-01-08