Ramada Ramat Gan
Krinitsi St 1, Ramat Gan, 52453, Ramat Gan
Ramada Ramat Gan is a fantastic urban hotel, perfect for business travelers and vacationing families seeking a central location close to Tel Aviv's top shopping and entertainment spots, as well as Ramat Gan's Diamond Exchange area.   Enjoy one of our 98 spacious rooms, many recently refurbished, and all designed for the self-catering traveler with fully-equipped kitchenettes. Start your day at the Ramada Ramat Gan with a delicious Israeli-style, buffet breakfast. Relax at the rooftop pool, open all summer, work out in our modern gym, or treat yourself to drinks and appetizers at the club lounge. A well-appointed business hotel in Ramat Gan, Ramada Ramat Gan is a great place to host an important business meeting or do some quiet work. Our comfortable business lounge offers free, high-speed WiFi and complementary business services. Catering to groups of 20 to 200 people, our banqueting facilities are a splendid choice for a conference, convention or family celebration in the Tel Aviv metropolitan area. Ramada Ramat Gan's friendly, knowledgeable and helpful staff will be happy to make your stay as rewarding as possible. Downtown Tel Aviv and beaches (6km) 20 min by car, Diamond Exchange (1.8km) 6 min ride, Azrieli Shopping Centre (5km) 18 mins ride, Savidor Train Station (2.6km) 10 min ride, Airport (23km) 30 mins by car. indoor parking is available for guests with extra charge.close Check-In: from 03:00pm. On Saturdays (Sabbath) and holidays: 1 hour after the end of the Sabbath/Holiday. Check-out: 11.00am.Saturdays (Sabbath) and holidays: 02:00 pm. Kosher Certification by the Ramat Gan rabbinate
rooms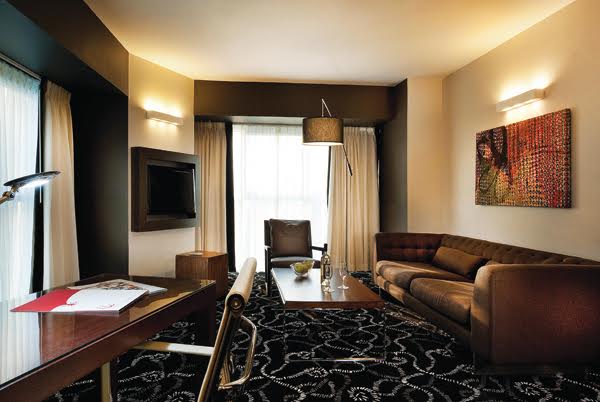 Deluxe Junior Suite
Max. 3 adults or 2 adults + 2 children

Stylishly refurbished, open-style suite featuring a bedroom with double bed leading into a living area with a desk and pullout sofa. Rooms feature contemporary bathrooms with bathtub, a fully-equipped kitchenette, and can be partitioned for extra privacy. Great light and urban vistas.
Size: 37 m² (398 ft²).

Feel at home with:

• Flat screen TV with cable channels
• Free WiFi
• Reading lamps
• Air conditioning
• Telephone
• Personal safe
• Hair dryer
• Coffee making facilities
• Fully-equipped kitchenette with mini fridge, microwave, cutlery and kettle.
• Writing desk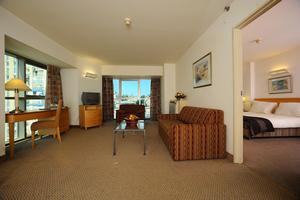 Suite
Spacious two-room suite featuring a large bedroom with double bed, and a separate living room with a desk and pullout sofa. Rooms feature modern bathrooms with bathtub, a fully-equipped kitchenette, and ample closet space. Large windows with urban views.

Size: 45 m² (398 ft²).

Feel at home with:

• Flat screen cable TV
• Free WiFi
• Reading lamps
• Air conditioning
• Telephone
• Personal safe
• Hair dryer
• Coffee making facilities
• Fully-equipped kitchenette with mini fridge, microwave, cutlery and kettle.
• Writing desk
• Large closet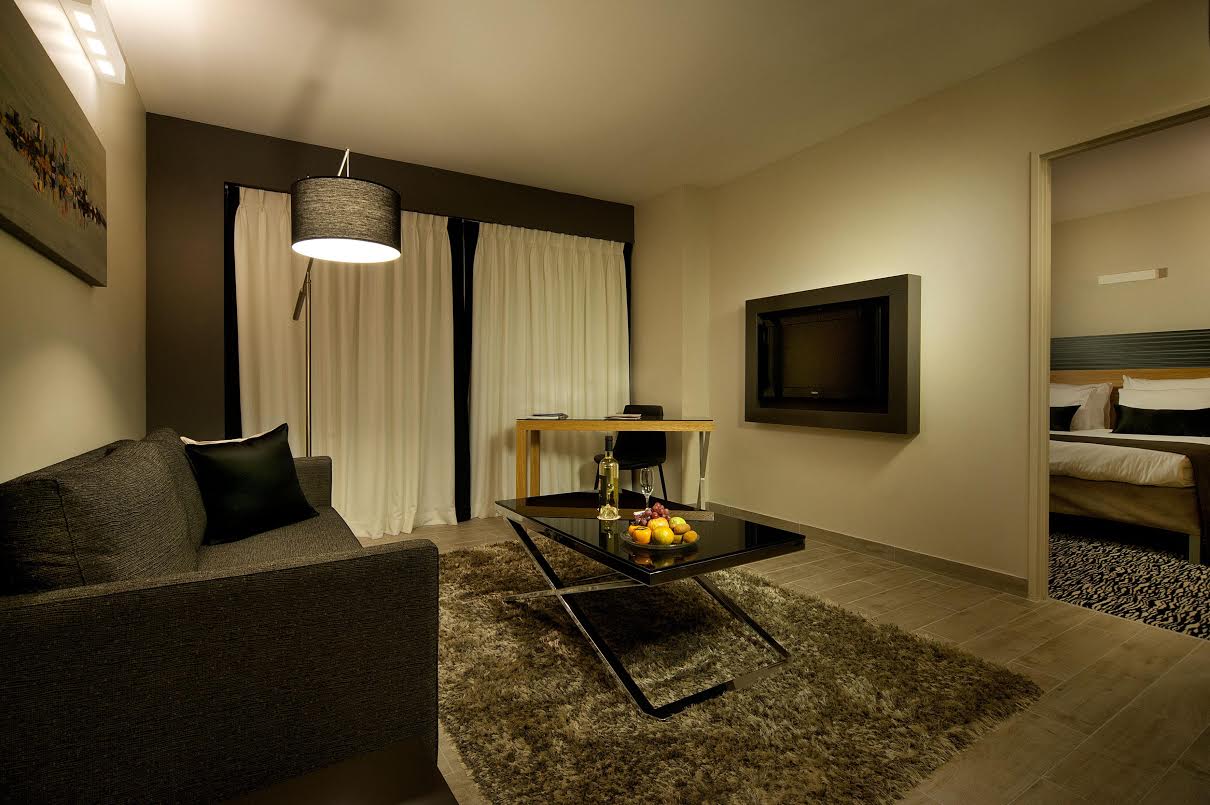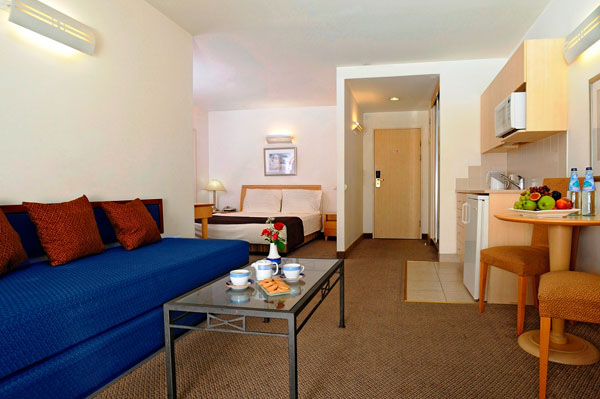 Junior Suite
Max. 3 adults or 2 adults + 2 children

Light, open-style suite featuring a bedroom with double bed leading into a living area with a desk and pullout sofa. Rooms feature modern bathrooms with bathtub, a fully-equipped kitchenette, and can be partitioned for extra privacy. City vistas.

Size: 37 m² (398 ft²).

Feel at home with:

• Flat screen cable TV
• Free WiFi
• Reading lamps
• Air conditioning
• Telephone
• Personal safe
• Hair dryer
• Coffee making facilities
• Fully-equipped kitchenette with mini fridge, microwave, cutlery and kettle.
• Writing desk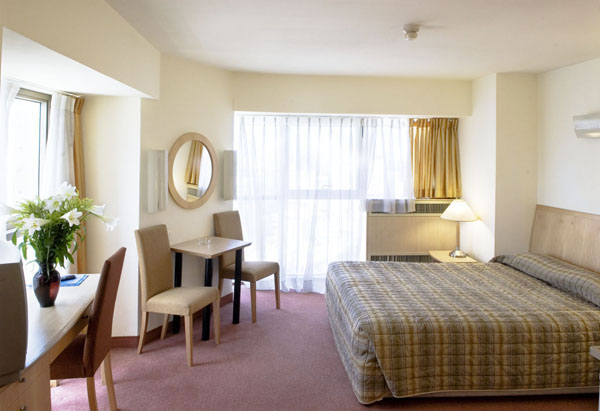 Studio Room
Studio Room
Max. 2 adults

A generously-sized studio with twin or double bed, featuring a comfortable bathroom with tub and shower, and a fully- equipped kitchenette ideal for self-catering. No balcony.

Size: 28 m² (300 ft²).

Feel at home with:

• Flat screen, cable TV
• Free WiFi
• Reading lamps
• Air conditioning
• Telephone
• Personal safe
• Hair dryer
• Coffee making facilities
• Fully-equipped kitchenette with mini fridge, microwave, cutlery and kettle.
reviews Ramada Ramat Gan
הדס אביגדור (8)
2021-11-05
חלי מולארזני (8)
2021-10-16
רננה שראל (10)
2021-10-14
תודה רבה על השרות\nהניקיון\nהיחס
מזי טורדזמן (8)
2021-09-26