Herods Herzliya Hotel
★★★★★
HaOgen Street 11, Herzliya, Israel, Herzliya
The 5 Stars Plus Herods Herzliya hotel is uniquely positioned on an exclusive man-made island overlooking the Mediterranean Sea and Herzliya's picturesque marina. In addition, an unrivaled range of superior amenities and elegant designer accommodation ensure guests enjoy an unforgettable pampering break. The Herods Herzliya hotel is the number one choice of all hotels in Herzliya for its superb location, facilities and spacious, ultra-comfortable accommodation options. Located on a small island guests look out over the beautiful Mediterranean Sea and marina from rooms and from many other vantage points around the hotel. The onsite restaurant serves up delicious Mediterranean dishes while the bar is the perfect place to unwind and enjoy a drink in a convivial atmosphere. The Herods Herzliya hotel, Five Stars Plus Hotel Rating, offers access to pristine sandy beaches, and the outdoor swimming pools provide the perfect place for family fun in the sun – or to relax and soak up the sun. The fitness center is on hand, fully equipped for a productive workout, pampering spa treatments are available in the new onsite spa. Business guests are especially well provided for at the hotel, with a well-appointed business lounge complete with extensive business. Fattal Hotels' business visitors are also welcome to enjoy a range of complimentary refreshments while catching up with work. Herods Herzliya has been awarded a Five Stars Plus Hotel (rating) under the Israeli Ministry of Tourism grading scheme.
rooms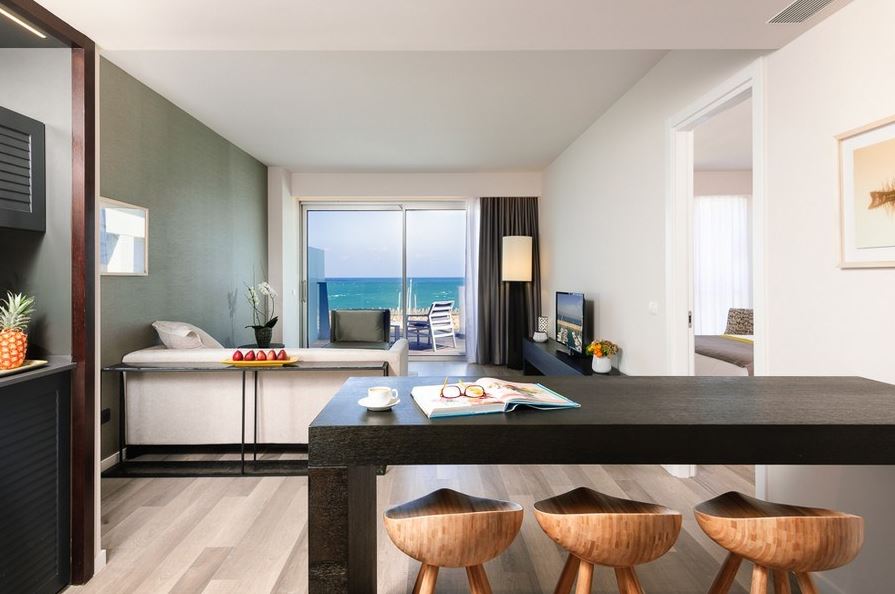 Executive suite pool view with balcony
Spacious and beautifully designed suites with balcony overlooking the hotel pool and sun deck.
Guests can look out over the scenic hotel pool area from their private balcony, while enjoying the extra spacious accommodation and comprehensive array of facilities. Suitable for a family of four, plus a baby or three adults sharing.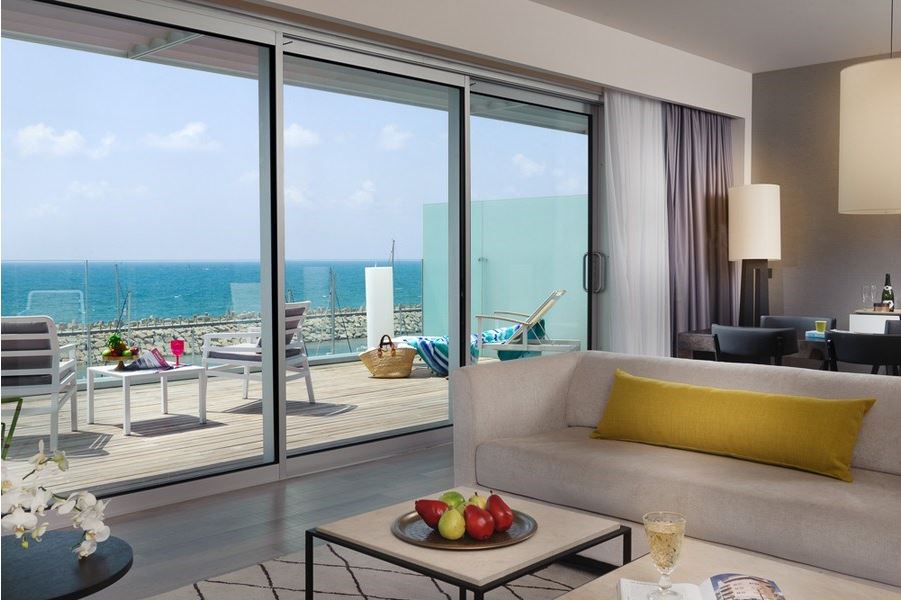 The presidential suite of the Herods Herzliya
The presidential suite of the Herods Herzliya extends over 92 square meters, and its large balcony you can watch the breathtaking views of the Mediterranean. In addition, you will enjoy exclusive fittings perfect holiday: a living room, two bedrooms with two separate bathrooms, fully equipped kitchen, Machine espresso bar, luxury toiletries from L'OCCITANE, free entrance to the business lounge, personalized concierge services, a daily newspaper and a delicious gift and special hotel chef.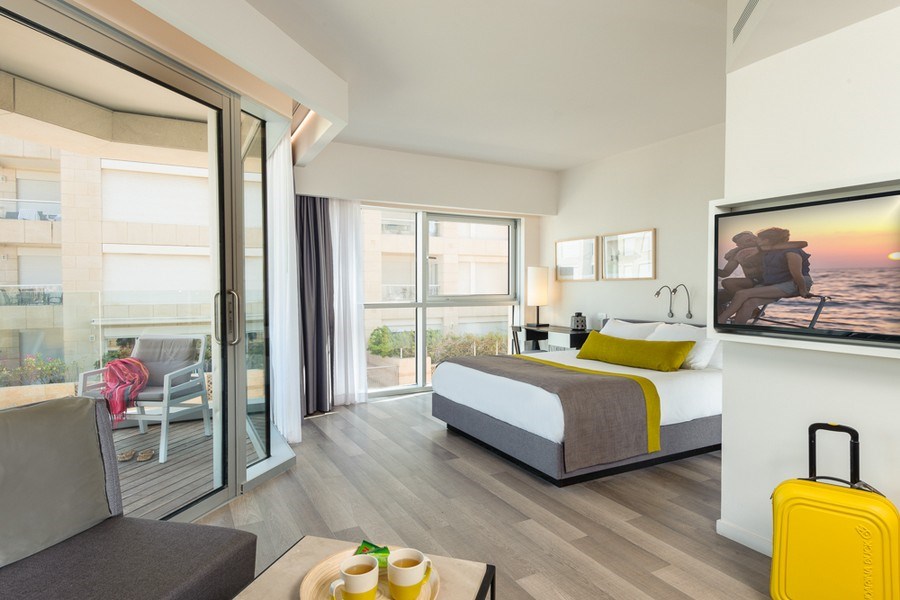 Deluxe Garden View with balcony Room
Generously proportioned rooms plus a private balcony overlooking the hotel's charming gardens – along with an extensive array of superior amenities.
Max Occupancy
Max Occupancy
3 Guests
Room Size
Room Size
23 Sqm
Amenities
Mini-bar Free Wi-Fi Bathrobes Direct dial telephone Safe Air Conditioning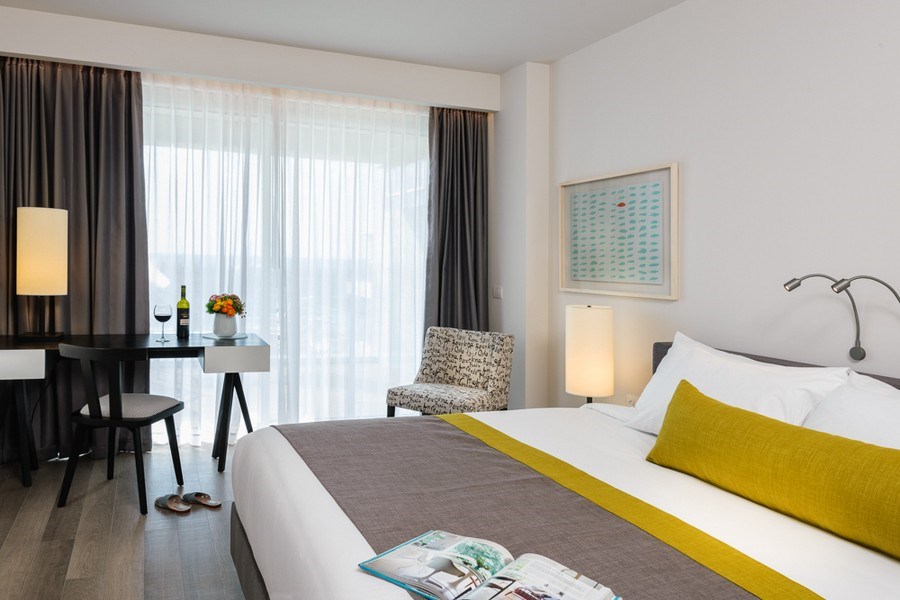 Executive Room with Marina view
Guests can enjoy spectacular views over Herzliya marina from these spacious and exceptionally well-appointed rooms.
Max Occupancy
Max Occupancy
3 Guests
Room Size
Room Size
23 Sqm
Amenities
Mini-bar Free Wi-Fi Bathroom Bathrobes Safe Air Conditioning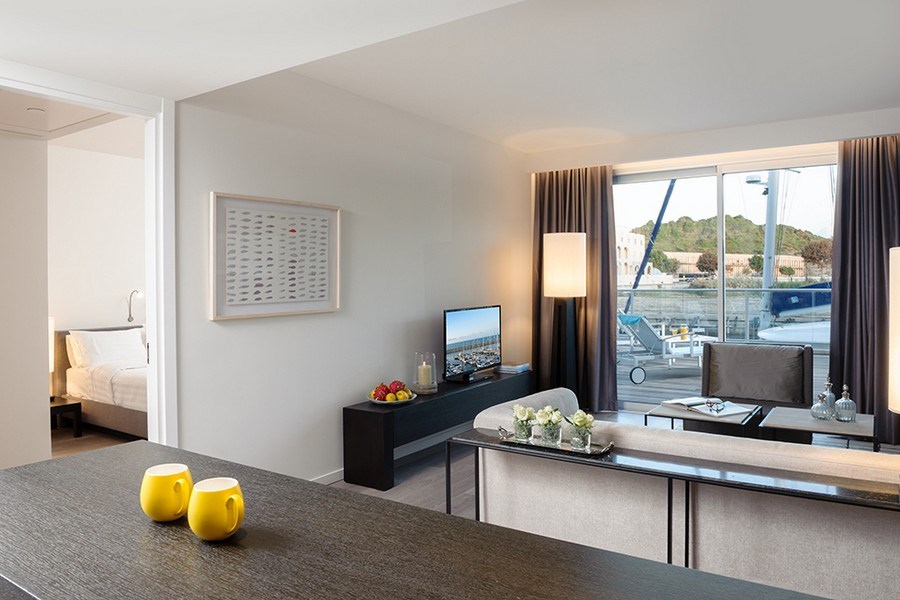 Excutive Suite Marina View With Balcony
uperb views over Herzliya's picturesque marina, plus an impressive amount of floor space make these Herods Herzliya hotel suites ideal for a family vacation or relaxing business break. Suitable for a family of four plus a baby or three sharing.
Max Occupancy
Max Occupancy
4 Guests
Room Size
Room Size
50 Sqm
Amenities
Mini-bar 2 televisions Free Wi-Fi Bedroom Bathrobes Direct dial telephone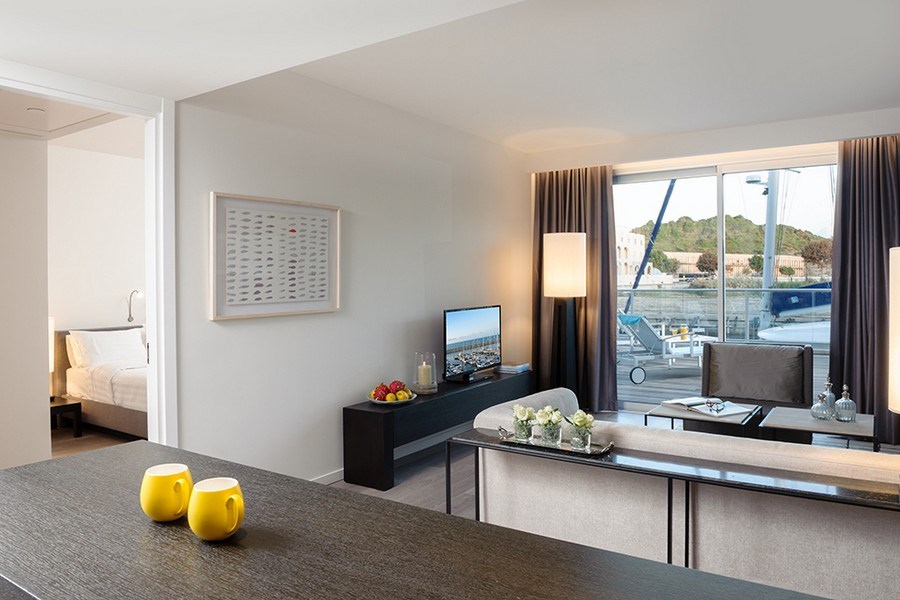 Royal Herods Suite -Two Bedroom
The jewel in the crown of all the Herods Herzliya hotel rooms & suites, these spectacular and spacious suites feature two bedrooms and bathrooms, plus an array of pampering amenities. Suitable for a family of six sharing or four adults
Max Occupancy
Max Occupancy
6 Guests
Room Size
Room Size
92 Sqm
Amenities
Mini-bar 2 Bathrooms 2 large bedrooms 3 televisions Free Wi-Fi Direct dial telephone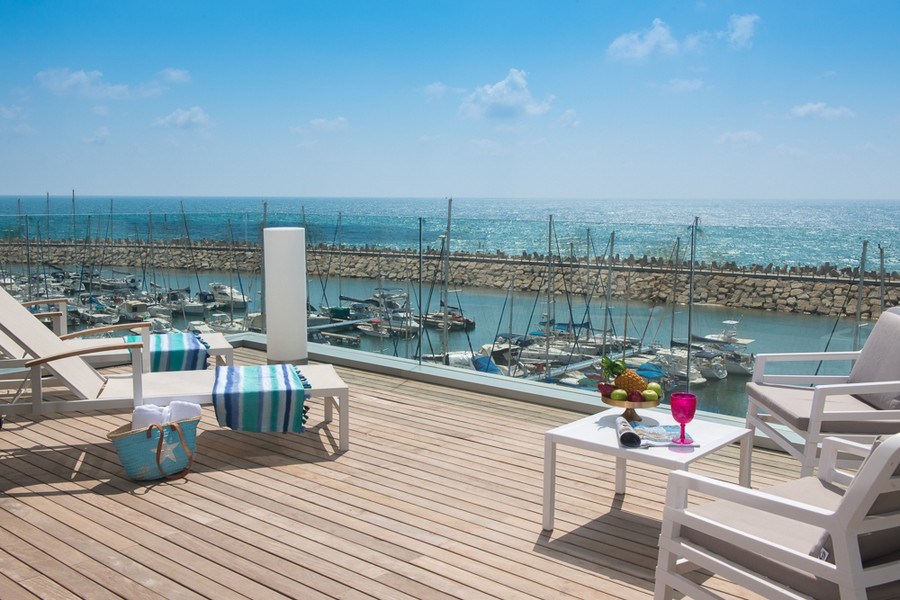 Terrace Mediterranean Suite
These opulent ground floor suites are ultra-roomy, featuring a private sun terrace offering glorious sea views. An extensive range of facilities are also provided. Suites can accommodate a family of four plus a baby, or three sharing.
Max Occupancy
Max Occupancy
4 Guests
Room Size
Room Size
55 Sqm
Amenities
Mini-bar 2 televisions Free Wi-Fi Bathroom Bedroom Bathrobes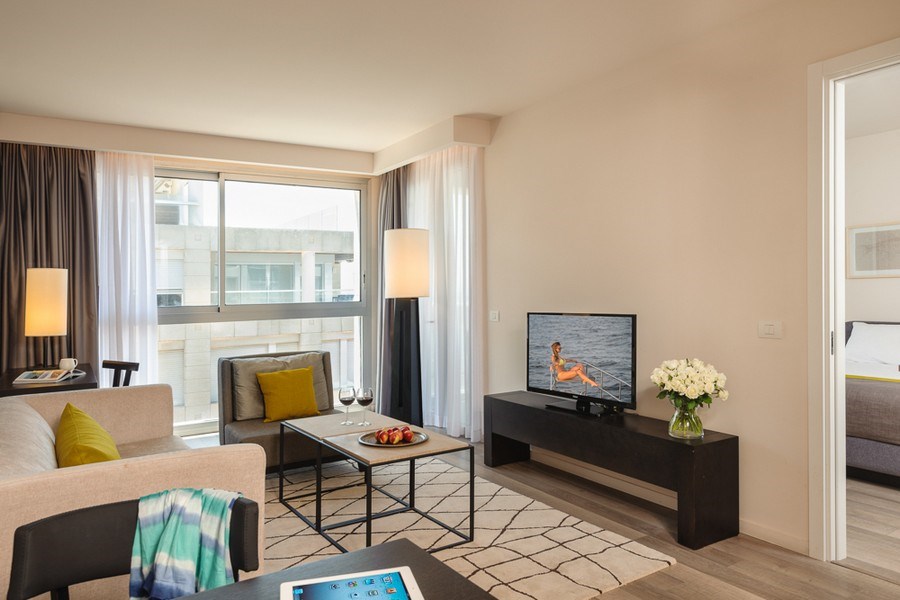 Deluxe Garden View with balcony Room
Generously proportioned rooms plus a private balcony overlooking the hotel's charming gardens – along with an extensive array of superior amenities.
Max Occupancy
Max Occupancy
3 Guests
Room Size
Room Size
23 Sqm
Amenities
Mini-bar Free Wi-Fi Bathrobes Direct dial telephone Safe Air Conditioning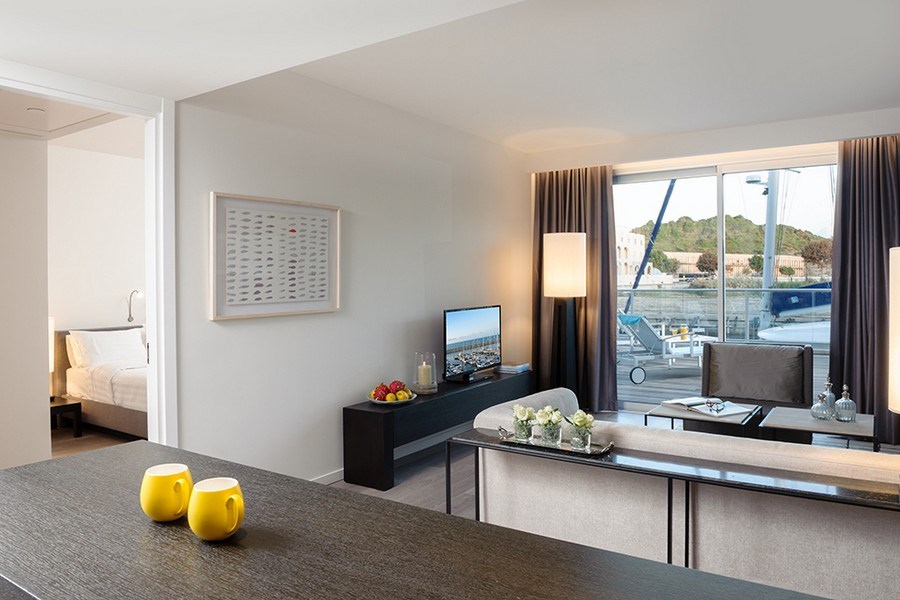 Deluxe Suite
These suites offer s superb level of accommodation overlooking the hotel's attractive gardens. A separate bedroom and extensive facilities make this an excellent option for a family of four plus a baby sharing, or three adults.
Max Occupancy
Max Occupancy
4 Guests
Room Size
Room Size
50 Sqm
Amenities
Mini-bar 2 televisions Free Wi-Fi Bathroom Bedroom Bathrobes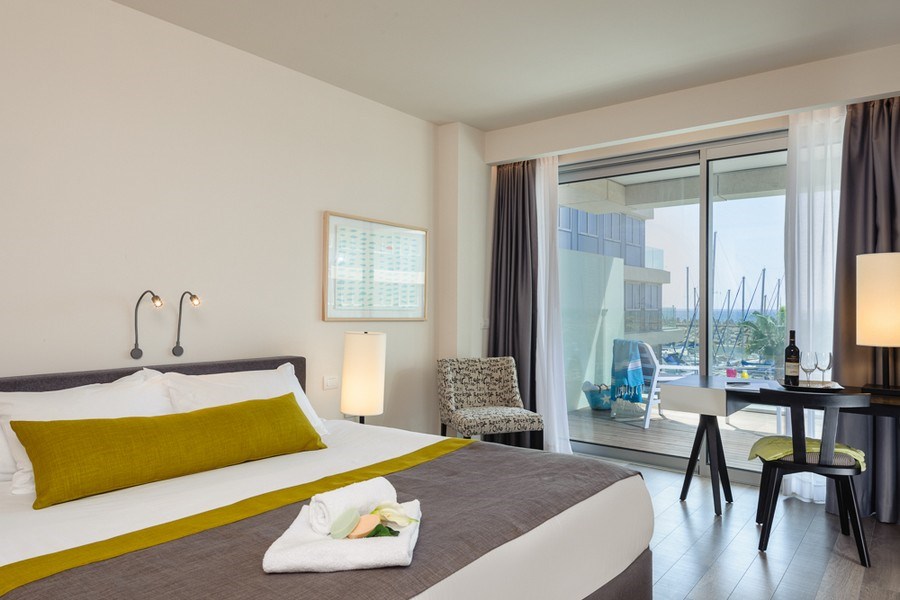 Executive Pool View with Balcony Room
Max Occupancy
2 Guests
Room Size
Room Size
33 Sqm
Amenities
Mini-bar Free Wi-Fi Bathroom Bathrobes Direct dial telephone Safe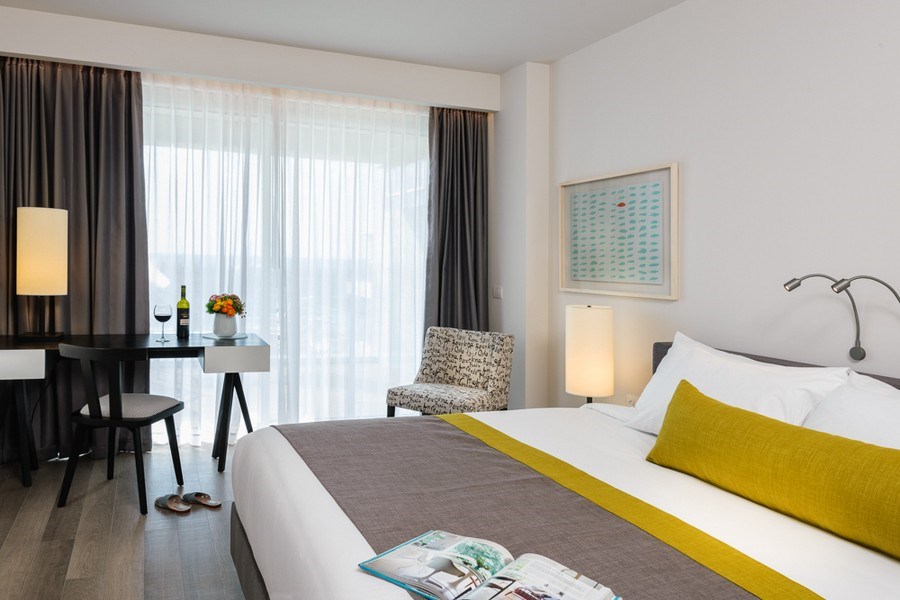 Deluxe Garden View Room
These spacious rooms offer attractive garden views, and feature a host of welcome amenities including top of the range in-room entertainment options.
Max Occupancy
Max Occupancy
3 Guests
Room Size
Room Size
23 Sqm
Amenities
Mini-bar Free Wi-Fi Bathroom Bathrobes Direct dial telephone Safe
Hotel Services
Outdoor Seasonal Pool
Spa
Gym
Sun terraces in Some Rooms
Free Parking
Events Hall
Meeting Room
Business Hotel
Free WiFi
WiFi in the Rooms
Business Lounge
Luxurious suites
reviews Herods Herzliya Hotel
אברהם הירשנזון (8)
2022-02-28
מיכאל שקולניקוב (8)
2021-12-06
יעל לוי (9)
2021-11-27
שירות מצוין, אוכל טעים
מיכאל שקולניקוב (8)
2021-11-06
ניסים בר-און (8)
2021-09-25