The Stones of the New Breastplate
16th Street, Artists' Colony, Safed, Safed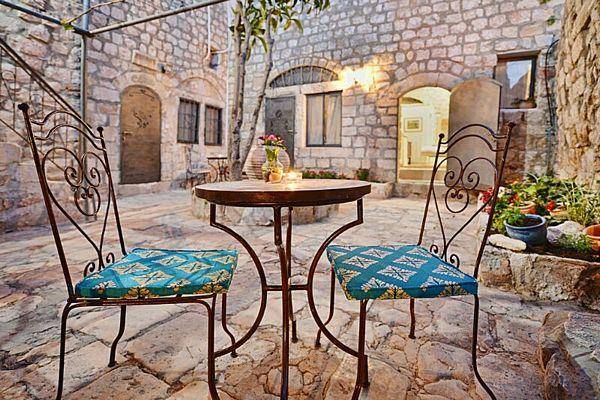 terms of cancellation
When booking, an advance payment of 100 NIS from each room can be canceled up to 14 days prior to arrival, with the exception of NIS 100 for non refundable handling fees. Cancellation From 14 to 7 days prior to arrival, the customer will be charged 50% of the booking. Cancellation From 7 to 72 hours prior to arrival the customer will be charged 75% cancellation fee. Cancellation In 72 hours before arrival you will be charged a full cancellation fee. Attention: check in until 20:00
The Olive Stones Hotel has recently undergone extensive renovation. The hotel is housed in an ancient 200-year-old Khan building that has been restored and restored while preserving its historic origin. The stone structure is located in the Artists' Colony and is well integrated into its surroundings. Above it lies the charming old city of Safed with its alleys and old houses, markets, galleries and artist houses. The hotel has three floors and in its center is an inner courtyard covered with a green vineyard. In this enchanting courtyard, the hotel guests sit for their pleasure and rest from the daytime strolls. The design of the hotel rooms combines ancient and new, the ancient structure is built and paved with stone and includes elements of arches, columns, ethnic carpets and next to these rooms were updated in all the newest facilities for the enjoyment of guests The entrance sign to the hotel is written in black letters in a biblical font indicates the motif In all its parts, the stones of the breastplate that the High Priest carried on his body
A significant piece of jewelry according to Kabbalah, they also gave the hotel suites their names and inspired their design style.
rooms
Hoshen Family room- Avney Hahoshen

Hoshen Family room equipped with twin beds, satellite TV, minibar, air conditioning, bathroom with shower and sitting area. There is a coffee & tea set, espresso machine, free wireless internet.

Hoshen classic room

Hoshen classic room is suitable for a single or couple. Maximum capacity is 2 adults+ baby. Each room is equipped with twin beds, bathroom with shower, minibar, air conditioning, sattelite TV, free wireless internet, espresso machine and coffee & tea set.

Hoshen Gallery room

Hoshen family room is suitable for family up to 2 adults & 1 kid. There is a twin bedding bedroom area and upper gallery floor for kids. Each room has been eqipped with air condioning, minibar, bathroom with shower, sattelite TV, espresso machine, coffee & tea set.
Map
back to results
close map