Publica Isrotel Herzliya - New
9 Abba Even St, Herzliya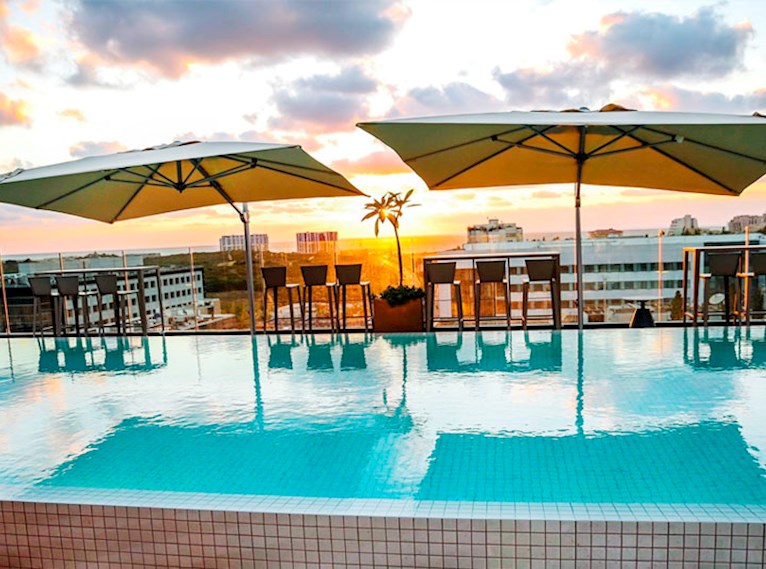 terms of cancellation
Regular Season:

A guest who canceled his/hers order up until one week prior to arrival will pay a handling fee of NIS100 per room or 5% of the total deal value, whichever is the lesser. Guests who shall cancel their order seven days or less before the reserved date will be charged with 25% of the total deal value.

2. In case and the guest made a reservation and did not arrive at the hotel without canceling the order beforehand, the guest will be charged with 50% of the total reservation value.

3. July, August, Holidays and Special Occasions:
Publica Isrotel, part of Marriot's prestigious Autograph Collection, is the new urban, contemporary business hotel. Publica is located in the heart of Israel's High-Tech center in Herzelia Pituach and just minutes from the sea.
Inspired by millennial lifestyle, Publica is a meeting place that merges business and pleasure, achievement and entertainment, work and wellness, local and global, private and public.
The hotel's central location allows guests to explore the best restaurants, bars and popular sites in Herzliya such as: The Herzliya Marina, Acadia Beach, International garden Apolonia, Herzliya Museum of Contemporary Art and more.
Publica offers a seamless hospitality culture that facilitates dialog and genuine interactions. This is a people-centric, experiential hotel that takes updated accommodation to a new level, mixing mediums and serving as a space for real life professional and personal communication.
Publica boasts an updated premium membership club, eclectic design, urban art platforms and gallery, inviting lounge, working spaces and contemporary cuisine, live stage entertainment and pampering pleasure.
rooms
Publica City View Twin Room

Twin, City view, floors 4-6 This modern and comfortable room has 2 single beds and offers city view. The room is located on floors 4-6 and includes a small adjustable desk/table, flat-screen TV with Israeli and international channels, a coffee/tea kit, 2 armchairs and a Bluetooth speaker. The bathroom has a shower stall. Guests are invited to participate in all fitness classes and other activities offered by the City Club, floor -1. Size: 25 sq. meters (82 sq. ft) No. of guests: 1-2 (1-2 adults or 1 adult and 1 child) Room Type 1-2 (1-2 adults or 1 adult and 1 child)

Publica Sea View Queen Room

Queen, partial sea view, floors 4-6 This modern and comfortable room has a queen size bed and offers partial sea view. The room is located on floors 4-6 and includes a small adjustable desk/table, flat-screen TV with Israeli and international channels, a coffee/tea kit, 2 armchairs and a Bluetooth speaker. The bathroom has a shower stall. Guests are invited to participate in all fitness classes and other activities offered by the City Club, floor -1. Size: 25 sq. meters (82 sq. ft) No. of guests: 1-2 (1-2 adults or 1 adult and 1 child) Room Type 1-2 (1-2 adults or 1 adult and 1 child)

Publica Sea View Twin Room

Twin, partial sea view, floors 4-6 This modern and comfortable room has 2 single beds and offers partial sea view. The room is located on floors 4-6 and includes a small adjustable desk/table, flat-screen TV with Israeli and international channels, a coffee/tea kit, 2 armchairs and a Bluetooth speaker. The bathroom has a shower stall. Guests are invited to participate in all fitness classes and other activities offered by the City Club, floor -1. Size: 25 sq. meters (82 sq. ft) No. of guests: 1-2 (1-2 adults or 1 adult and 1 child) Room Type 1-2 (1-2 adults or 1 adult and 1 child)

Publica Queen Room

Guest Room, 1 Queen, floors 1-3 A modern and comfortable room with a queen size bed. This room is located on floors 1-3 and includes a small adjustable desk/table, flat-screen TV with Israeli and international channels, a coffee/tea kit, 2 armchairs and a Bluetooth speaker. The bathroom has a shower stall. Guests are invited to participate in all fitness classes and other activities offered by the City Club, floor -1. Size: 25 sq. meters (82 sq. ft) No. of guests: 1-2 (1-2 adults or 1 adult and 1 child) Room Type 1-2 (1-2 adults or 1 adult and 1 child)

Publica Twin Room

Guest room, Twin, floors 1-3 A modern and comfortable room with 2 single beds. This room is located on floors 1-3 and includes a small adjustable desk/table, flat-screen TV with Israeli and international channels, a coffee/tea kit, 2 armchairs and a Bluetooth speaker. The bathroom has a shower stall (with the exception of 3 rooms, which have bathtubs). Guests are invited to participate in all fitness classes and other activities offered by the City Club, floor -1. Size: 25 sq. meters (82 sq. ft) No. of guests: 1-2 (1-2 adults or 1 adult and 1 child) Room Type 1-2 (1-2 adults or 1 adult and 1 child)

Publica City View Queen Room

Queen , City view, floors 4-6 This modern and comfortable room has a queen size bed and offers city view. The room is located on floors 4-6 and includes a small adjustable desk/table, flat-screen TV with Israeli and international channels, a coffee/tea kit, 2 armchairs and a Bluetooth speaker. The bathroom has a shower stall. Guests are invited to participate in all fitness classes and other activities offered by the City Club, floor -1. Size: 25 sq. meters (82 sq. ft) No. of guests: 1-2 (1-2 adults or 1 adult and 1 child) Room Type 1-2 (1-2 adults or 1 adult and 1 child)
video
Map
back to results
close map