Mamilla Hotel - Jerusalem
11 King Solomon Street, Jerusalem, 94182, Israel, Jerusalem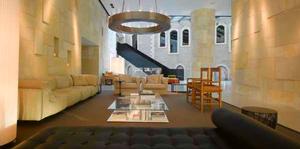 Hotel Highlights
done

Located near the Old City, Mamilla Avenue, business and entertainment centers and more.

done

Spa & Wellness Center, Indoor pool

done

A restaurant on the hotel roof overlooking the old city.

done

Business services, Conference room and Event Hall

done

WiFi in the Hotel rooms
Mamilla Hotel - part of The Leading Hotels of the World (LHW), along with the David Citadel Hotel - features a panoramic rooftop terrace overlooking Jerusalem's Old City walls. Situated alongside Jerusalem's finest shopping and entertainment experience, the Mamilla Avenue, and minutes walk from the Tower of David and Jaffa Gate.
Designed by the Italian elite architect and designer, Piero Lissoni, Mamilla Hotel is bringing world-class superior lifestyle, service and hospitality experience to Jerusalem and Israel.
Guests and visitors of the Mamilla Hotel enjoy exceptional accommodations together with exclusive restaurant and bar venues, The Akasha - Holistic Wellbeing Center, as well as events and banqueting spaces, that blend sophistication and modern international style with the unique and rich culture of the city.
rooms
Residence Suite

Residence One Bedroom suites are the ultimate in luxury hospitality. Well suited to a business stay or for guests looking to entertain, each Residence Suite features a bedroom and living room, an en-suite, double-basin bathroom, guest restroom, a walk-in closet and two flat-panel TVs with a wide selection of local and foreign channels. Guests staying in the Residence Suite also enjoy pampering VIP amenities. Room Size: 65 sqm / 700 sqf Bed Type: 1 King or 2 Twin and a sofa bed Occupancy: 2 adults and 2 children (ages 2-13) and infant

Mamilla Family Suite

Luxurious, spacious and impeccably styled, Mamilla Suites offer perfectly harmonized living and private spaces. Each Mamilla Suite features a walk-in closet and two flat-panel TVs with a wide selection of local and international channels. In addition, Mamilla Suites include a living room with sliding panel walls, enabling guests to easily create a separate area from the bedroom. Guests staying in the Mamilla Suite also enjoy pampering VIP amenities. Room Size: 56 sqm / 603 sqft Bed Type: 1 King or 2 Twin and a sofa bed Occupancy: 2 adults and 2 children (ages 2-13) and infant / 3 Adults

Mamilla Family Suite

Luxurious, spacious and impeccably styled, Mamilla Suites offer perfectly harmonized living and private spaces. Each Mamilla Suite features a walk-in closet and two flat-panel TVs with a wide selection of local and international channels. In addition, Mamilla Suites include a living room with sliding panel walls, enabling guests to easily create a separate area from the bedroom. Guests staying in the Mamilla Suite also enjoy pampering VIP amenities. Room Size: 56 sqm / 603 sqft Bed Type: 1 King or 2 Twin and a sofa bed Occupancy: 2 adults and 2 children (ages 2-13) and infant / 3 Adults

Executive Room

To create a feeling of home in Jerusalem, these luxury rooms are just perfect for a couple or family stay. Natural materials and contrasting textures with splashes of color provide Executive Rooms with depth and sophistication. Room Size: 33-36 sq.m/355 - 377 sq.ft Bed Type: 1 King or 2 Twin and a sofa bed Occupancy: 2 adult and 1 child (ages 2-13) and 1 infant

Studio Room

In these luxurious accommodations, rich heritage and sophisticated style come together, with a combination of modern furnishings to simple finishes. The Jerusalem Mamilla Hotel Studio rooms are cozy, comfortable rooms perfectly suited for either an individual, couple or those traveling on business. Rooms offer city views. Room Size: 28 - 30 sqm / 301 - 323 sq ft Bed Type: 1 King or 2 Twin Occupancy: 2 adults and infant Rooms for Guests with Special Needs available
video
Map
back to results
close map