Eouropa 1917 Hotel
3 Hapalmach St., Tiberias, Israel, Tiberias
Entering the Hotel, one can sense the presence of an enigmatic story, a rare encounter between the Ottoman, British and Israeli cultures which was created in Tiberias during the early twentieth century. As you step forward you will become immersed back in time to the year of 1917, the year the Hotel Europa was established. Ancient basalt rock walls, chandeliers and a magical well waiting to grant your every wish in return for your coins, welcome you as you enter. The mere sight of the arched windows, high decorated ceilings, authentic floor tiles, original colorful wallpaper and Tiberian - Turkish(Damascus) styled porcelains will reflect the story of what once occurred here better than any history book or novel. For the nostalgic nature lovers among you, a further stroll through the Hotel's orchards will take you a hundred years back, as you wonder between the Tiberian natural flora including: palm, olive, pomegranate, orange, lemon, fig and mulberry trees, Arabian Jasmin, flowery bougainvillea, and herbs such as hyssop, rosemary and a variety of mints.
More info
close
Rooms Eouropa 1917 Hotel
Executive Panoramic
This double room has a big balcony with a Sea view, air conditioning and satellite TV.
Suite
This suite has a living room, patio, air conditioning and satellite TV.
Executive Balcony
This double room has a balcony, air conditioning and satellite TV.
Deluxe Garden
This double room has a patio, flat-screen TV and mini-bar.
Deluxe
This spacious air-conditioned room comes with a flat-screen satellite TV, a safe, a desk, a mini-bar, an electric kettle and a coffee machine. The private bathroom provides a bath or a shower, a hairdryer, free toiletries, bathrobes and slippers.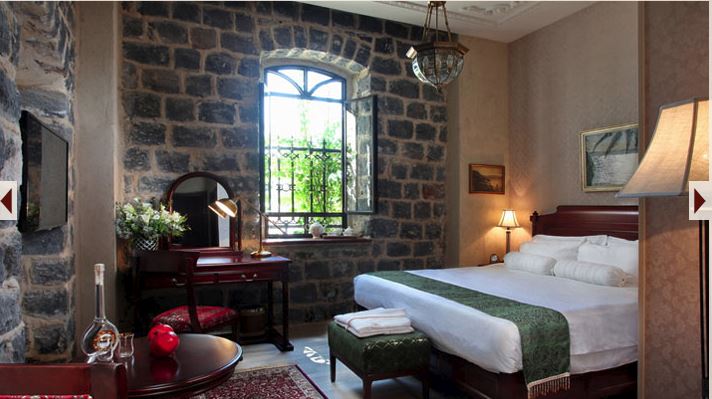 The Knights Room
The Hotel rooms in the "Colonnade", Trifora "and "Liwan" wings have a distinct charm unlike any other Hotel. During the Hotel's renovation, special attention was given to historical preservation, and it is this core value that fashioned unique rooms which carry no resemblance to classic Hotel rooms.

Our guests can lodge in special garden suites, baring original basalt rock walls from 1917, or stay in exclusive rooms that served the British mandatory "Green Howard" brigade and "Hagana" fighters during the war of independence. Guests will note the firing and observation posts in these rooms which have been fully preserved. All rooms are equipped with all the modern amenities including: an LCD television, Wi-Fi, a mini bar and much more. In each room you will find: homemade jams and Arak, an exclusive Turkish coffee from our private collection ready to be brewed, pampering artisan soaps and original playing cards crafted especially for your enjoyment.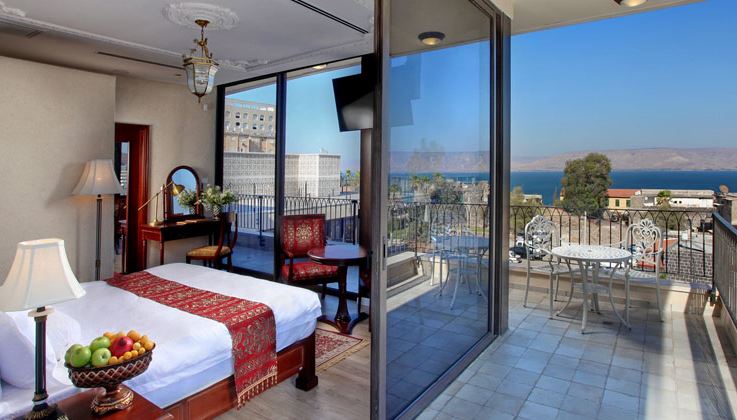 The Baron room
The rooms include: 42-inch flat-screen TV, satellite TV, telephone, king-size bed, coffee corner including: electric kettle and NESPRESO machine, mini bar, wardrobe, rain-roofed bathroom, air conditioning Work private bathroom with bathtub, hairdryer, bathrobes and slippers
reviews Eouropa 1917 Hotel
יוקה כהן כביר (10)
2022-06-18
אסנת אלקסלסי (9)
2022-05-06