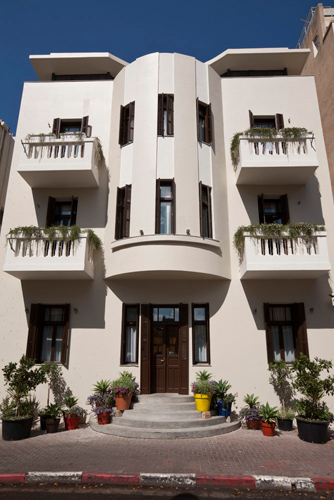 Hotel Townhouse Tel Aviv
32 Yavne Street, Tel-Aviv 6579207, Tel Aviv
Welcome to Hotel Townhouse Tel-Aviv, your casually luxurious home away from home. Our 18-room, beautifully restored boutique hotel resides in a 1930's landmark building in the heart of Tel-Aviv. Operated by an in-the-know international team of young professionals, our boutique hotel is perfectly situated in the heart of the White City, on Tel-Aviv's trendy and picturesque Rothschild Boulevard. Our boutique hotel in the heart of Tel-Aviv combines an understated luxurious and welcoming environment, with stylishly comfortable design and high quality amenities, resulting in an urban haven ideal for both the seasoned world traveler and business executive. We invite you to be our guest and to enjoy a personal, sophisticated and chic boutique hotel experience unlike any other in Tel-Aviv.
Show Map
reviews: 8.5
terms of cancellation
Executive Double Room

Executive Double Room

Classic Double Room

Classic Double Room

Townhouse Suite

This spacious suite features a full sitting corner, balcony, historic city views, exclusively designed furniture, herringbone wooden floors, handmade rugs, custom linen and bedding, Dead Sea bath amenities, bath robes and more. This suite has a beautiful balcony overlooking Yanve street with views of Tel Aviv.

The Standard

At 18 square meters (194 sq. ft), the Standard Room is our most intimately sized room – perfect for guests staying with us for a short period of time or for single travelers.

The Deluxe

At 25 meters (270 sq. ft), the Deluxe Room features either a balcony or sitting area, and is the perfect choice to ensure a comfortable stay.

The Superior

At 20 square meters (215 sq. ft), the Superior Room is perfect for couples, business travelers, and friends who want a bit more space, but are still planning on spending most of their time exploring Tel-Aviv.
back to results
close map