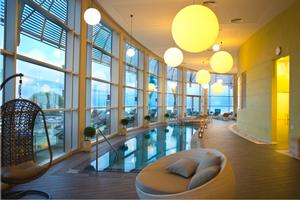 Ein Gedi Hotel
Kibbutz Ein Gedi, Kibbutz Ein Gedi, 86980, Israel , Ein Gedi
The Ein Gedi Hotel is located in the land of Genesis - between the Dead Sea, flowing rivers and green gardens. Here in the magical regions where Abraham, King David and Jesus Christ walked, our guests enjoy natural springs, a modern spa, a beautiful swimming pool, tours throughout the year, and wild, exotic nature. The hotel offers accommodation and activities for all visitors, from standard rooms to luxury ones, so that each guest can plan his or her desired vacation. All guests are ensured of an unforgettable experience meeting the wild animals that roam between the rooms, strolling through the luxuriant botanical garden that encompasses the paths of the compound, and much more. The hotel staff is at your service to assist you in planning your stay, because Ein Gedi offers you the best available options for a perfect vacation. This is you and nature, side by side, with no fences. Waiting for you to enjoy.
Show Map
reviews: 8.4
terms of cancellation
By non show one night will be debited. By cancellation till 1week before the arrival date 25$. By cancellation less then 1 week before the arrival date one night will be debited. During holidays cancellation less than 2 weeks before arrival date one night will be debited.

*rate for HB supplement applies only when reserving HB in advance.Please pay attention:a maximum of 3 adults or 2 adults + 2 children can stay in mini suite, arugot - deluxe room, desert renovated standard rooms.
Superior Garden

All the rooms are on the ground within the botanical garden, the size of the room is 24 square meters, the rooms have: air conditioner including heating, tv safe and coffee corner including coffee machine, accommodation in these rooms gives access to spa synergy

Standard + - the desert rooms

Our Desert Standard rooms invite you on a serene vacation in the midst of green lawns, unique trees, bushes and flowers. In each of the rooms you will find a comfortable double bed, fold able couch, TV, coffee area, refrigerator, writing desk and private balcony surrounded by beautifully manicured gardens. Room size: 23 m2

Standard Rooms

Our Desert Standard rooms invite you on a serene vacation in the midst of green lawns, unique trees, bushes and flowers. In each of the rooms you will find a comfortable double bed, fold able couch, TV, coffee area, refrigerator, writing desk and private balcony surrounded by beautifully manicured gardens. Room size: 23 m2

Mini Suites

Pamper yourself in one of our mini suites for an exclusive vacation experience at the heart of a verdant landscaped botanical garden. The mini suites were constructed adjacent to the swimming pool and the synergy spa to ensure that your stay will be a most delightful and pleasant one with everything you need right outside of your door. Each unit includes a spacious bedroom with wide double bed, a comfortable living room with foldable sofa that opens into a bed for children, two TV sets, a coffee corner with an espresso machine, a refrigerator, a well-designed shower room, a hairdryer, a safe, and a private deck where you can relish the peace and quiet of the location. Room size: 32 m2

Deluxe rooms

nature never spoiled you like our Deluxe rooms will. The rooms are designed with large windows and balconies with breathtaking views over the Judean Desert and the Arugot River - a rare glimpse into the wild from within a protected capsule of tranquil peace. The Deluxe rooms were created for those who refuse to give up on luxury and still enjoy the natural wonders that exist at the lowest altitude on the planet. The rooms are spacious and include a fully-equipped living space, a refrigerator, and a coffee corner with an espresso machine; an extra-wide shower, a bathtub, a hairdryer, safe, a luxurious double bed and a private balcony with an incredible view. Room size: 31 m2

Superior Arugot Room

The Arugot rooms were designed to provide guests with a sensation of home at the heart of the desert. The design is elegant and warm and creates an atmosphere of calm and relaxation in a room to enjoy. The rooms were built adjacent to an overhead walkway with a panorama of the Arugot River and the Judean Desert, inviting you to step outside and enjoy the magical view of the afternoon sunset, the ibex and the mountains, from the glorious oasis in which the hotel is located. The Superior Arugot rooms include spacious double beds, cosy living areas, TV, safe, refrigerator, coffee area, extra-wide shower, and private balcony with an abundance of peace and quiet to suit your vacation needs. This is only possible here, at the lowest altitude on earth. * Possibility of booking a room with a view of the nature reserve, for a surcharge of NIS 150. Room size: 27 m2
back to results
close map